Is There A Need To Update Maslow's Hierarchy?
For my second semester as a freshman at James Caldwell High School, my elective for the remainder of the year was Interior Decoration with Ms. Heinicke.  My first few days of class were not exactly how I imagined them to be structured.  Our very first assignment was to create a dream room, any space of a house that we could design completely from scratch or build off of something we had already seen.  No scale was needed to represent any of our designs, so our minds were free to roam.  The first thing that came to my mind was a perfect dream bedroom.  In the end, my dream bedroom consisted different sections like a nook where I could curl up to read a book, a desk space for homework, and a huge television to watch movies on.  Gradually, it became noticeable that most of my classmates' wants, like mine, were a bit out of reach.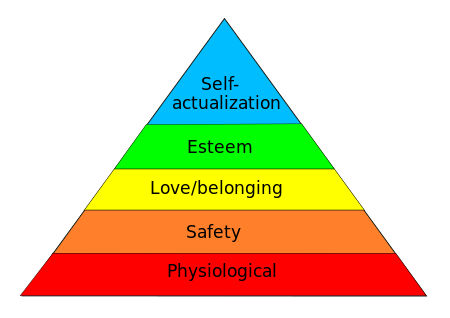 This is where I was introduced to the idea of the want/need necessities in our lives and Maslow's Hierarchy of needs.  Abraham Maslow began examining human physiology in college where he wrote his thesis paper on learning, retention, and reproduction of verbal material, and later graduated with his degree.  However, Maslow did not begin to dive into the depths of the human mind until World War II.  Ineligible to fight in the war, Maslow listened to war stories in his own home where he started to develop his study of self-actualization in humans.  For the rest of his life, Maslow studied human's mental health and "full potential" and dedicated himself to his hierarchy of needs.  The study showed that even though a person may wish for something, like a dream bedroom, that doesn't necessarily mean it is needed to function in life.
The pyramid contains five levels, all building off of one another.  The base of the pyramid is the physiological needs, or things that are necessary for survival: food, water, shelter, and reproduction.  Second comes security needs: financial security, family security, and job security.  These things make a person feel like they are safe and comfortable in the environment they are in.  Next comes love and belonging, which can commonly be achieved through friends, family, and partners.  This is a vital part of the pyramid because humans need to feel a sense of acceptance in a group.  Love and belonging then transitions into the fourth stage which is self esteem.  Self esteem can build off interactions with other humans and strengthens a human's confidence.  If all these needs are fulfilled then a human may experience the top of Maslow's pyramid, self actualization.  This references to a person coming to their full potential and accepting who they truly are.  However, a person is unable to reach the top if he or she cannot master the four previous needs.
While studying Maslow's pyramid, it became noticeable to me that all the different sections haven't been modernized.  Our wants and needs in the 21st century are very different than they were when Maslow first created the pyramid.  For instance, teens today may argue that their phones or wifi should belong in the base of their pyramid, as physiological needs.  Others may comment how dominating the internet and technological advances have become in the daily life.  Personally, while very helpful, I do not believe these amenities should be considered so vital in living.  To me, things like internet and other helpful sources are privileges that some people are able to have.  Assuming that everyone is able to have these privileges is incorrect because of financial and other restraints.
So although Maslow's pyramid may not need to be updated to the current era, I think certain ideas do have to be added to it.  For example, I think our own personal health should be its own level of Maslow's pyramid.  If one's body is being worn down or someone's lifestyle is not to the best it can be, it is obvious that their life will never reach its true potential.  By eating a healthy diet, exercising daily, and getting sleep, it is noticeable that there is a positive impact on lives.  Additionally, I feel as though growth should be a topic that the pyramid mentions as a subtopic.  By learning from their mistakes, people are able to make better decisions the next time they are faced with a challenge.
Overall, these are just some ideas and subtopics that can be added to Maslow's Pyramid.  While his pyramid may not have to be updated for the 21st century, I definitely think there are certain elements that could be built on to Maslow's previous ideas.  Even though more layers may make it harder for a person to achieve their "full potential", Maslow knew there would be complications on the journey to finding a human's purpose.  His pyramid clearly depicts the hardships a human may have to face but also shows the end of a wonderful life.