The smash hit, new broadway musical, 'Dear Evan Hansen' was one of the best shows I have ever seen. 'Dear Evan Hansen' is the story of a socially awkward senior and his struggle to fit in. Evan Hansen's life changes forever when Connor Murphy, another senior at his high school, commits suicide. His parents thought they had found a suicide letter in Connor's pocket addressed to Evan, and assumed that they were friends. In reality, Evan never knew Connor, he had written the letter to himself as a therapy exercise to help him overcome his anxiety, and Connor took it from him. Evan decides to play along with the facade and help Connor's parents as well as his sister Zoe, who Evan is in love with, overcome their grief by sharing details about their "friendship".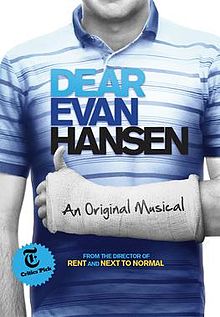 'Dear Evan Hansen' is an emotional rollercoaster; it will make you laugh and cry. The male lead, Ben Platt, gives an out of this world performance playing Evan, and he is a flawless fit for the character, perfectly playing off the character's humor and social awkwardness. His voice will give you chills. The female lead, Laura Dreyfuss, has a beautiful voice and plays her character Zoe Murphy (Connor's sister) superbly.
Beyond the protagonists, the entire cast was amazing. The dialogue was absolutely hilarious, and the soundtrack was everything I could have hoped for. 'Dear Evan Hansen' is a modern musical that any teen will enjoy, and will leave you feeling like you belong in the world.