Remembering Number 81
The fall of 2006 was supposed to be a time of all things beginning again.  The leaves were inexorably changing from their summer green hue to dashes of orange, yellow, and red that filled the trees of Caldwell.  James Caldwell High School had reopened for a new school year and students had already been in classes for about a month.  With each day passing, the air got crisper and nights seemed to get longer.  Along with the usual changes of autumn came high school football– loved and cherished by American teenagers nationwide. In 2006, Caldwell's varsity football team was in the Northern Hills Suburban Football League (League 2-5).  Our former football team would be facing several robust and vigorous opponents such as DePaul, Delbarton, and Montville.  By the time October had arrived, Caldwell had a record of 1-4.  The varsity team was looking to go the extra mile on their Friday night game away at Madison High School.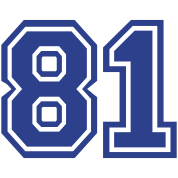 A team practice was held for the upcoming game on October 11, 2006.  After a few drills, Caldwell's wide receiver, a 16 year old junior named Jamie Bliss, went out for a pass and was tackled from behind by a fellow teammate.  Head coach, Mr. Trimmer, would later call it "a simple little tackle." Jamie got up with no complaints. As he headed back to the huddle on the field, he fell to the ground.
The 911 call was placed for Jamie around 4:20 in the afternoon, as 75 teammates from all different football levels gathered to watch the mayhem that had struck the field.  The team doctor performed chest compressions on Jamie before he was carried away by the ambulance to Mountainside Hospital in Montclair.  Forty minutes later, Jamie passed away.
Jamie is widely commemorated in Caldwell for the mark he left on our small town.  He was not only #81 out on the football field, but he also lettered in baseball and basketball.  He was a gifted young man who set his mind to anything on any court or field he was playing on.  The same applied regardless of his football jersey, during his academic hours.  Jamie was a high honors student and a member of the National Honors Society.  At JCHS, he also participated in the math club and was even a copy editor for the Caldron.  To any group in the school, Jamie was considered a friend with his "sheepish smile" and positive attributes as a leader.  "He was the type of kid that every parent would love to have.  He was as close to perfect as I could find," said Mr. Trimmer.
This upcoming October, and by the time this edition of the Caldron is published, it will mark ten years since Jamie's death.  I chose to honor his death for multiple reasons.  I have been a part of Caldwell's basketball program since the fifth grade, and some of my fondest memories on the team are participating in the Jamie Bliss tournament.  This tournament is held yearly in order to honor Jamie and the sport he loved.  Money is raised from the tournament for the Jamie Bliss Scholarship Fund and attracts teams from all over the suburban area to play basketball.  I cherish the afternoons during the long winter break, going to set up the snack table with my team, making sure it was organized to perfection, before enjoying the day and playing the sport that I loved.  I also identify with Jamie through an award that was presented to me by my eighth grade basketball coach.  Each year, the coaches pick one boy and one girl from the eighth grade teams who exemplify Jamie.  Now, every morning, I wake up to the plaque across my room that reminds me of him.
I do not keep Jamie on my mind because I have to; I am reminded of him because I want to.  Jamie was an astonishing leader that our community tragically lost. To me, he was and still is a role model through his ethics of life and will to accomplish whatever was set in front of him.  From the hundreds of messages to Jamie written on his condolence wall from friends, family, and strangers, it is easy to see how Jamie touched a variety of people in his life.  It is my hope that people recognize how important Jamie still is to this community. May he always be remembered, from this inconsolable anniversary to the next.