By Ben Mulick
Rating: 7/10 FFO: St.Vincent, Fleet Foxes, Ra Ra Riot, Sufjan Stevens  
Joanna Newsom, independent music's own beloved chamber-pop star, soothes listeners with new fairytale-esque ballads in her 4th studio LP, Divers. The harpist and piano player has built a reputation for herself over the past decade through her abstract folk EPs and albums that hit home in the hearts of the average avant-garde folk fan. Newsom's following dramatically increased with her widely praised 2nd album, Ys. Ys, which was put out in 2006 and holds only five tracks. This album tells beautiful recollections of love and dreamed creatures over melodic strings and harp that substitute for a guitar. After releasing her astounding two hour LP, Have One on Me in 2010, she allowed for an interim of time to elapse before releasing Drivers. Her unique and eclectic style may shy away some listeners that feel her musicianship is too idiosyncratic for their taste, yet devoted fans of Joanna hold her on a pedestal of godliness that is raised higher and higher with each release. To them, her albums blossom and sprawl over an impressionist spectrum of classical influence infused with distinct lyrical articulation, holding a subtle melancholy.
Many who regard Ys as being their favorite album of choice, such as myself, proceeded into Divers with caution, trying not to set expectations too high so as to avoid disappointment. The title track "Anecdotes" is a prime example of Joanna's strange lyrical diction, enunciating select words. The subject of this opening track revolves around a soldier in battle, focusing on the nature surrounding him, and ending the song with the parting of the soldier and his beloved. The setting of Newsom's songs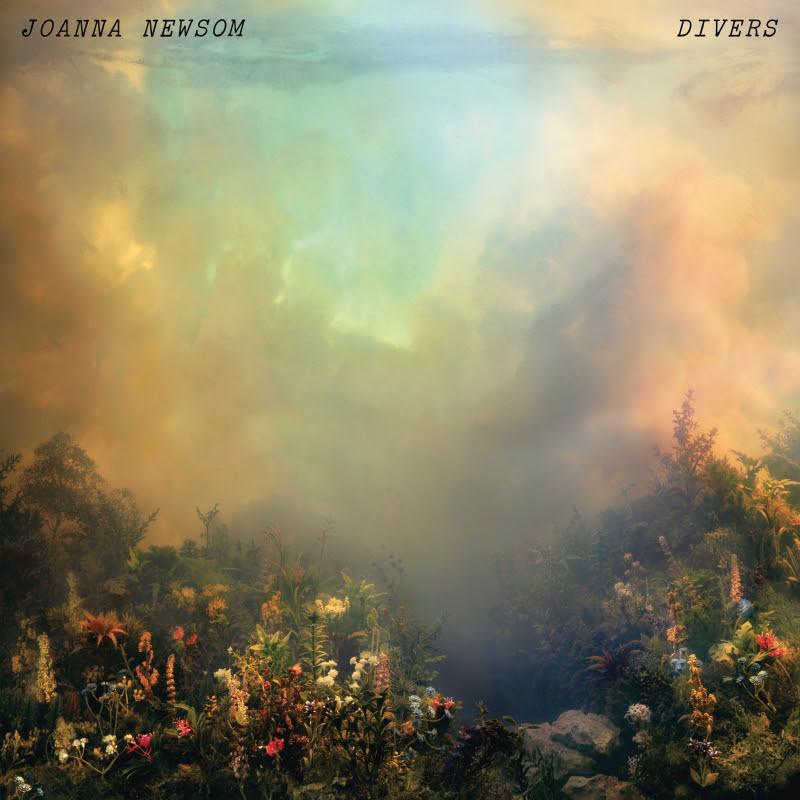 in this album is circa 18th or 19th century, possibly even further back. The single, "Sapokanikan," the next track in the album, further emphasizes this historical setting; it details a distant, make-believe land and its citizens. Key strong points of Divers are the production and instrumentation quality. The clear, precise melodies given vocally by Joanna are at the forefront, supported by piano chords, strings, harp/harpsichord lines, and timid drums or keyboard. The album, which clocks in at 8 minutes shy of an hour, seems to manipulate the listener into feeling emotions of sadness, joy, and nostalgia for seemingly unreal fantasies of the world she has created, this new dawn in a forest that doesn't exist. While all of the tracks contribute to this scene of beauty, each song is more or less individualistic and can stand alone from the album if needed.
The latter half of the LP continues with the same tone and theme as the former. "Divers" or "You Will Not Take My Heart Alive" continue the somewhat depressive romance that seems to be the trademark of Newsom. Joanna experiments with odd instrumentation on select tracks, such as "The Things I Say" or "You Will Not Take My Heart Alive" in which Joanna layers her song with instrumental backing by mellotron, clavichords, and Marxophones. The strings, which are more evident on the 1st half of the album, were supplied by The City of Prague Philharmonic Orchestra. The piano ballad "Time, As a Symptom" closes out the album with lyrics such as "Time is just a symptom of love," which are so emotional that they could bring tears to the eyes of the listener. That being said, the weaknesses of Divers are bountiful. This new LP of Newsom is a significant addition to her discography, yet it doesn't deliver anything original to the hardcore fan of Newsom. The lyrics are wondrously personal but fail to catch the attention of the common indie pop listener. Although they don't contrast heavily from past albums, they can be overwhelming. The overwhelming feeling given by Divers is definitely a trademark of the album. The concepts of existentialism conveyed may shy away the casual listener from embracing the album. That being said, Newsom brings to the table yet another emotionally abstract baroque pop album that moves the listener to see and feel imagery and emotions not known to their mind, and it will leave a unique impression of pop music not to be forgotten.