Puffs: The Harry Potter Parody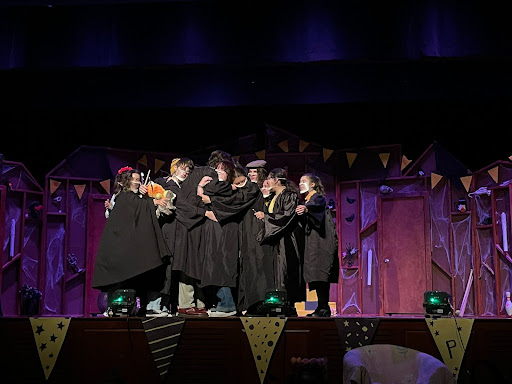 James Caldwell students have worked hard for the past two months to present "Puffs." "Puffs" is a Harry Potter parody that revolves around the House of the Hufflepuffs, following three main protagonists and a cast of recognizable characters. As many Harry Potter fans know, Hogwarts, the school of magic, has four different houses including the Gryffindors, Slytherins, Ravenclaws, and the Hufflepuffs. The Hufflepuffs are accepting of everyone which is also why many consider them to be the "rejected" house.
The play takes the perspective of Hufflepuffs and is a funny and sarcastic turn on Harry Potter. It takes secondary characters from Harry Potter and makes them main characters in a hilarious way. The cast did an amazing job at capturing the funny essence of the play. Each member really embodied their characters and it was very well-acted. The crew members also did a fantastic job with the creative set. A lot of hard work was put into "Puffs" to really bring it alive. A member of the cast, Weston Ryder, said "I would have never expected that I would ever end up auditioning for the play, but I'm really glad I did. The whole atmosphere was very collaborative and you could definitely tell that the cast was having lots of fun with certain scenes with each other." Watching JCHS students present "Puffs" was definitely an enjoyable experience for the audience since you can really tell how much fun the cast had with each other.
Credits to the Crew: Greg Paradis, Alexis Narine, Lily Polek, Samantha Solomon, Charlotte Stieve, Inez Morrisey, Christopher Altonjy, Jerry Andrews, Arax Benlian, Sabrina Canonaco, Noah Carrington, Joseph Carsillo, Ava Castiglia, Hansal Devare, Cailin Egan, Mollie Fileti, Paul Gooney, Sophia Grosso, Carolyn Hart, Rex Kearns, Fiona Laddey, Robert Mattesky, Karen Orellana, Abigail Rapuano, Ekaterina Roberts, Angie Ruiz, Weston Ryder, Robert Savastano, Kristi Leigh, Jacquie Revier, Sandra Benlian, Joseph Carsillo, Sydney Jacobs, Ella Reiser, Josiah Zaki, Strother Gerdts, Meliza Ozen, Michael Vincent, Maya Cerqueira, Madison Flaherty, Abigail Mautone, Kaitlyn Cabalu, Shackera Fogo, Michelle Malagiere and Anna VanderGast
Credits to the Cast: Sophia Basile, Stephanie-Rose Caragiulo, Lilian Chiaet, Miranda Courtright, Angelina Feakes, Sabrina Feakes, Elizabeth Feria, Jacob Ging, Nicholas Gonzalez, Paul Gooney, Annabella Grosso, Malcolm Haddad, Kierah Jenkins, Victoria Maldonado, Margaret Meany, Sophia Rael, Weston Ryder, Emily Scott, Spencer Thron, and Jane Weinfeld.