The Perfect 10-0: Caldwell Cross Country's Dominant Season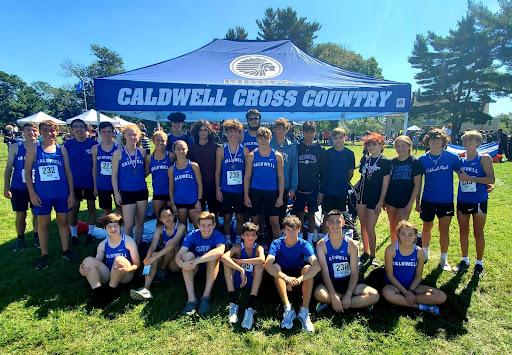 WEST CALDWELL– As the weather in the tri-state area begins to get colder, the James Caldwell High School Cross Country team only seems to be warming up. The Boys Team is off to a roaring 10-0 start in Essex County matchups, including a nail-biting win against Cedar Grove and a dominating victory against rival West Essex, while the girls sit at an impressive 6-3 mark with wins over Mount Saint Dominic and Bloomfield defining their season. 
Second year head coach, John Timan, has had success implementing a new defined and technology-based workout system. Timan puts an emphasis on less traditional exercises for veteran members of the team, such as intervals and repeated hill runs. Though upperclassmen were visibly unhappy with the heavier workload in the summer workouts, no one can argue that Timan's philosophy hasn't worked. Aside from the successful team records, individual runners have been getting faster and faster by the week. PRs are now commonplace for the team as well, proven by the fact that over ten runners PRd at their latest race at Branchbrook Park alone. Assistant coaches Jim Curran and Lisa DeLaura also deserve a shoutout. Both coaches ran at the division one level in college, with Curran running for Sacred Heart University and DeLaura competing for Vanderbilt University. Their personal experiences running at the next level are invaluable, as the impact that they've had on the growth and development of the runners can't be replicated.
Captains Jude Bazerman (Senior), Aidan Dickson (Senior), Jenna Goldbach (Senior), and Hannah Morgan (Junior), have also had a profound influence on the team's success. The level of effort has been particularly noticeable for Dickson, who stated, "We all know how to work together. We also haven't worked this hard in any previous season and it's really showing with our undefeated record." The biggest characteristic for the team is that even when the lights aren't bright, everyone is still doing the right thing. Long gone are the days of walking at practice and finding shortcuts. 
Monday through Saturday, the 40-plus team consistently shows up and displays their best effort. On top of that, the next-man-up mentality, with each runner ready to perform, has been critical to Caldwell's success in the first chunk of the season. COVID-19 has still been taking a toll on the Chiefs even in a year with relaxing regulations. Multiple runners have had to miss races due to quarantines or vaccinations, but younger runners stepped up, runners have stepped up well, answering the call.
With a little over a month left in the season, the Chiefs are well aimed to make a push for the Essex County Championship, a Sectional win, and potentially a Group Championship. The team's well improved work ethic and natural talent combined with multiple strong leaders makes the Chiefs a dangerous team on the course come November.