Suzanne Broffman Retires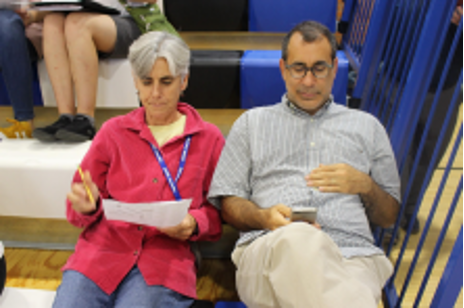 After 32 years of working at James Caldwell High School, social studies teacher Suzanne Broffman has decided to retire from her beloved position. From teaching US History, to Human Behavior, to AP Euro, Ms. Broffman has thoroughly impacted the JCHS department.
Ms. Broffman began her academic career at Barnard College of Columbia University, where she received a Bachelors in Political Science and a Masters in Social Studies. Prior to pursuing her career within Social Studies, Broffman initially went to law school, where she filled out forms, created documents for cases, and provided arguments.
"Before becoming a teacher, I had spent a little bit of time in law school, but I decided that I really did not enjoy it," said Broffman. "I really like kids and I wanted to do something with them. I didn't realize how important this was to me until I spent time in law school."
Ms. Broffman has also taught a numerous amount of courses over the years with a wide variety of content. Honors World Cultures, World Cultures, AP US History, US History I and II, Western Civilization, Supreme Court, American Diplomatic History, Legal Studies, Human Behavior, Political Theory, AP Human Geography, and AP European History are all of the classes she has taught at JCHS.
"AP European History has been my favorite course to teach, content-wise," says Broffman.
Prior to the COVID-19 pandemic, Ms. Broffman could be found in the school library, or doing crossword puzzles in Mrs. Valentine's office in the mornings. "She would be in the library reading books, and asking kids all sorts of questions," says GCMS Vice Principal, Jessica Valentine. Ms. Valentine used to be the Vice-Principal at JCHS, and is one of Broffman's closest friends.
"Mrs. Broffman was my World Cultures teacher back in high school," says Valentine. "I have known Ms. Broffman for a really long time and have known her as a student, as well as a colleague."
Aside from teaching a variety of classes, Mrs. Broffman took her own time to engage herself in some of JCHS's own courses. She enrolled in the school's AP Spanish class in the 2010-2011 school year with the students, all while balancing her own school work to teach.
"Not only has Mrs. Broffman been a great friend and mentor to me, but she was also an exceptional student! She was a stellar student, maintaining an A average all year long," says JCHS Spanish teacher, Elizabeth Coogan-Russell. Mrs. Coogan- Russell is one of Broffman's friends and co-workers at JCHS. "I feel very lucky to have worked with Ms. Broffman for so many years, and I am truly going to miss her!" Connecting with students around the school has always been one of Broffman's best strengths. Aside from AP Spanish, Mrs. Broffman has made projects in Woodshop, Ceramics, Draw/Paint, and even learned how to play guitar from a student. Ms. Broffman even participated in two school productions. She played alongside GCMS Principal John Bertollo in both Seussical and The Addams' Family.
"There are too many great memories from JCHS. One of my favorite memories has been Mr. Licavoli's and my enthusiastic spirit at pep rallies," says Broffman. "Every year for years people take the same picture of us sitting on the bleachers of us talking about current events."
Alongside acting in the musicals and school plays, Ms. Broffman actively participated in school spirit week and holidays, dressing up as a police officer, and a dog, in years prior.
"Broffman really just has always connected with kids and has always been able to see their perspective. She is one of those special teachers that is embedded in the culture at JCHS," says Valentine.
One of Ms. Brofman's long-lasting connections with a former Mock Trial student earned her an invitation to Justice Samuel Alito's appointment to the Supreme Court in 2006. Mr. Alito's son was a student of Ms. Broffman's and even won a competition for Mock Trial.
"My meaningful connections that I made with students is definitely something I will take away from JCHS," says Broffman. "I was just 25 when I started teaching, and I still have connections with the students I had years ago. Some of my students from earlier years have been lifelong friends. We get together, and their kids sleep over sometimes."
Another one of Broffman's colleagues, English teacher Susan Callaghan, has worked alongside Broffman ever since the beginning, and is a close friend of Broffman.
"Ms. Broffman and I were the youngins of our time back when we taught together!" says Callaghan. "James Caldwell HS will miss her political insights, intelligent wisdom, and passionate concern. She has always been politically savvy and active on the current issues."
"Suzanne Broffman is a consummate career educator, an intellect, a nurturer of young minds, and a distinguished colleague who helped to guide and shape the JCHS social studies curricula. I know that JCHS was lucky to have her expertise and I am certain that her legacy will remain in the fabric of the JCHS community," says JCHS teacher, Karen McIntyre.
McIntyre has worked beside Ms. Broffman as a co-teacher, in courses like US History. Their witty and sharp dynamic will forever be remembered by their students.
Outside of JCHS, Ms. Broffman likes to spend time with her colleagues and even go on road trips. In the beginning of the summer in June, near Mrs. Broffman's birthday, Mrs. Valentine, Mrs. Callaghan, and Ms. Broffman took road trips. Going to Mrs. Callaghan's family's lake house, they would unwind and laugh, through canoeing and kayaking.
"We would be at a rest stop and she would be reading a book there," says Valentine. "We laughed a lot.
"I'll miss people, students, my close friends, administrators and especially advising the GSA," says Broffman. Ms. Broffman plans to come back to school in the future to see musicals, attend Coffee House, and especially to check up on the GSA.
Ms. Broffman plans to continue with her busy lifestyle after retirement, by continuing to do more volunteer work, staying active in the community, and of course, reading lots of books and doing crossword puzzles. She will be greatly missed at JCHS.