Promising Caldwell Boys' Lacrosse Season Postponed
The Caldwell Boys' Lacrosse Team is set for a championship run in 2020 as they are stacked with a strong senior class and returning starters all over the field. However, the Coronavirus outbreak has put their efforts to a standstill, delaying the preseason and possibly more.
Last season, the team posted a 12-8 record, losing to Glen Rock in the Group 1 North State Semi-Finals. Earlier in 2019, they lost to Seton Hall Prep in the semi-finals of the Essex County Tournament. To say the least, the Chiefs have some unfinished business to handle in 2020. With many star players returning to the field for their senior seasons, the team was set up for greatness until the infamous COVID-19 put the preseason to a standstill.
On Thursday, March 12th, in the midst of intense evening practice, the coaches were notified of the school's delay and the suspension of their season. Heartbroken, Coach Timan broke the news to the team after an inter-squad scrimmage. 
"We got out to an amazing start this year. The energy in the locker room was contagious," said four-year starter and senior midfielder, Kyle Ross. He is just one of the many seniors who will look to have a tremendous impact on the field this season. Marist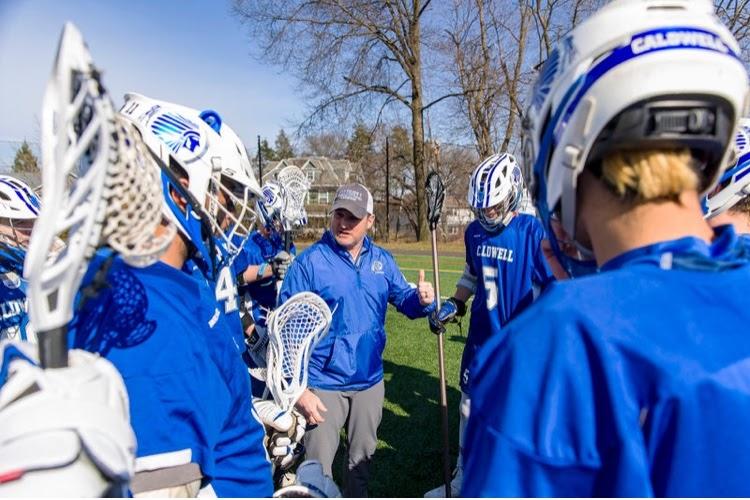 commit Matt DiBlasio, who posted 57 points in 2019, and senior attackman Jason Fusaro add to a strong scoring attack. Sophomore Peter Murray, who scored 16 goals as a freshman in 2019, junior Daniel Amores, and Carson Fillion, who is returning to the squad after having not played since his freshman year round out the rest of a relentless and talented offensive core.
On the defensive side of the ball, Caldwell did not lose one defensive starter. Rollins College commit Ben Kopen, senior Chris Mergner, and hard-nosed junior, Tyler Nolan are all back down low for the Chiefs. Scranton commit Jaden Pezzolla is still at LSM, looking to add on to his 110 career ground balls. Chris Fermo is another viable option at either LSM or down defense. He will look to fill in for his brother, Matt Fermo (Class of '19), at the X and take faceoffs for the squad as he did towards the end of 2019. Frankie Crocco, Jeffrey LaQuaglia and Dom Perna make up an athletic group of defensive midfielders. Returning in goal for the Chiefs is Manhattan College commit Connor Hapward.