West Essex/JCHS Hockey Striving for Success in Difficult Division
After a brilliant 2018-19, the West Essex/JCHS Knights look to mimic last year's success in the upcoming season. The Knights posted a total record of 14-7-3 and won the Kelly Division by going 8-1-3. That strong run last year was enough to move them up into the McGinnis Division in 2019-20, where they will be faced with tough opponents in Summit, Westfield, Montclair and others. After losing a tremendous amount of firepower on offense, the Knights are faced with a tall task. As Coach Marc Gregory puts it, "[McGinnis] is a much tougher schedule this year. We were a good team last year, so we may not be too different, but our schedule is a lot tougher this year, so we're going to be battling every game."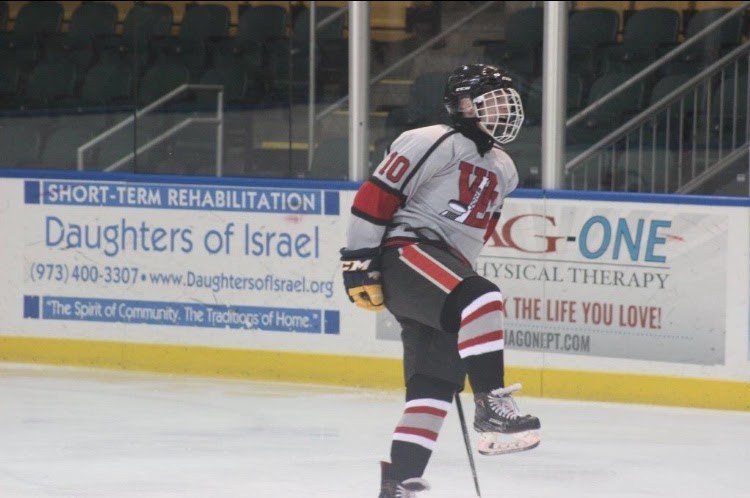 Despite the challenges ahead, the Knights are led by a strong group of seniors consisting of captains Connor Hapward and Jack Santoro, alternate captains Dylan Huff and Dom Sedecino, and goaltender Jason Albrecht. Hapward put up 30 points as a junior and was listed as one of NJ.com's "Defensemen to Watch for the 2019-2020 Season." He and Albrecht both earned All-Kelly Division first team honors last season. Santoro, who posted a whopping 34 points on offense last season, was named to the second team All-Kelly Division in 2018-19, as well as the defensive-minded Huff. 
The season is off to a good start as the Knights are 1-1-1 through 3 games on the year. They got a win on the road against Livingston in their opening matchup, lost a tight contest to Montclair at Clary Anderson Arena, and tied Millburn in their home opener. Freshman Clayton Prial has been a key contributor for the Knights posting 4 points (3 goals, 1 assist) in the first 3 games of the year. "The high school game is unlike any hockey I have ever played before. The game is extremely physical and the crowds that are at games can up the intensity to higher levels," said Prial. The crowd at the home opener against Millburn sure did not disappoint as many students from both Caldwell and West Essex made the trip to Codey Arena.
Santoro and Hapward have combined for 4 points as well. "It's gearing up to being a pretty rock 'em sock 'em season. We're battling game in and game out," says Santoro.