"The Lightning Thief Musical" recently hit Broadway on September 20th at the Longacre Theatre, bringing a unique aura to the 2019 season. Based on the 2005 best-selling fantasy novel by Rick Riordan, the plot follows Percy Jackson (Chris McCarrel), a twelve year old outcast who finds out he is the son of a Greek god. Percy soon discovers his destiny is far greater than one may have ever imagined. As he is thrust into the real world along with friends, Annabeth Chase (Kristin Stokes) and Grover Underwood (Jorrel Javier), Percy is inevitably forced to clean up his estranged father's mess. McCarrel describes the show in his own words, saying it "is centered around the fundamental values of what it means to be a good parent and what it means to be a good son" (McCarrel, broadway.com), although it is also a story of friendship, putting aside differences and facing struggles in order to do what is needed.

In 2017, "The Lightning Thief Musical" made its New York debut at the Lucille Lortel Theatre. Following this, in early 2019, the crew went on a national tour where they performed at the Beacon Theatre. Witnessing their performance in March was an overall surreal and magical experience. After growing up with the movies, which were such unsatisfying adaptations of the original books, getting the opportunity to watch this was a refreshing moment for myself. The ninety-five million dollar movie failed to bring a sense of heart and accuracy which this musical was easily able to capture and project. 
All the cast who took part on the tour are reprising their roles for Broadway. Nine out of ten were making their debut. The pure talent, as well as representation, they are able to bring to broadway in general is something to be thankful for. All members are extremely dedicated to their roles and have such a genuine connection with the music and lyrics written by Rob Rokicki; which of course can be seen during each performance. Every single person involved made viewing the production worthwhile. 
Not only is the show visually and audibly satisfying, but also affordable. The tickets start at forty dollars, which makes it more possible for seeing the production to become a reality. "The Lightning Thief: Percy Jackson Musical" welcomes all audiences to join them. Between the performers and fans watching, the atmosphere of the room is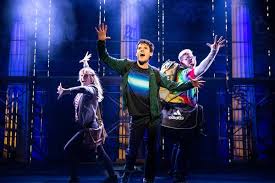 extremely fun-loving. I definitely recommend taking a chance to see it, as it contains a sense of authenticity and originality. The piece is just so incredibly funny, moving, genuine and well thought out; I felt so much for Percy and his friends as I went on their journey with them. To quote Kristin Stokes, "this isn't CGI. This is like real theatre magic." That is exactly what this production is: Magic.