The Caldwell Girls Lacrosse team is looking forward to an extremely successful season under the leadership of coach Angela Giampino, assistant coach Nicole Rubino, four very talented senior players, and their underclassmen counterparts. Seniors Jackie Behre, Vienna Cocca, Olivia Orlandino, and Francesca Gerard have been important assets to the team since the beginning of their high school careers, along with several other returning varsity players including juniors Caitlyn Buermann, Isabel Caravela, Maddie Anemone, Katherine Theobald, sophomores Isabella and Alexa Camerino, and Isabella Marinello.
Last season, the Chiefs were lead by midfielder, Caitlyn Buermann, with an astonishing 56 goals her sophomore season, followed by Vienna Cocca with an impressive 26, also playing at midfield. After graduating several talented players over the past few seasons,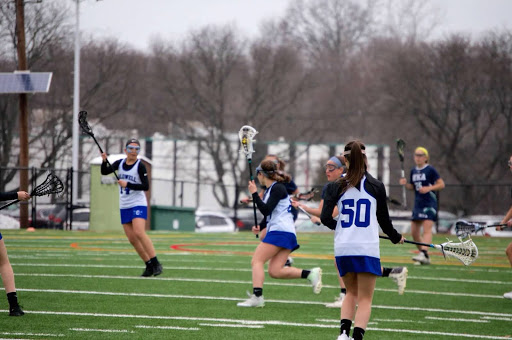 the varsity team is excited to welcome a group of talented young players including junior Jackie Perry, sophomores Jamie Pierce and Jenny Brennan, and freshmen Kate Quinn and Sarah Catizone, who will be starting in goal.
Throughout their pre-season, the Chiefs have beaten a reputable Villa Walsh in a scrimmage 18-10, Governor of Livingston 15-10, and are looking to win their first game against West Orange. Senior midfielder Vienna Cocca is looking forward to, "hopefully winning the conference championship and spending valuable time with coaches and teammates" this season.
This year, the varsity team is extremely close-knit and have already formed important relationships with one another that will benefit the outcome of the season. Seniors Olivia Orlandino and Francesca Gerard were asked what their favorite part of high school lacrosse has been and both responded that the bonds and friendships they have made throughout their years as a varsity lacrosse player will last a lifetime. Orlandino added, "enduring the freezing practices throughout pre-season and sweating through the hot games in May is definitely an experience I will never forget. I love this team and I will miss them wholeheartedly."
After being asked about what she will miss most about lacrosse, senior Jackie Behre responded, "I don't plan on continuing my lacrosse career past high school, so I will definitely miss the game itself. It will be hard to move on from the sport given that this will be my tenth consecutive season playing. Along with the game, I will miss the team more than anything. I have grown extremely close with them over the past three years and it will definitely be difficult to leave. I, along with the three other seasons, are trying to make this season as memorable and successful as possible in order to leave on a good note. We are all excited to move on to college, but will miss lacrosse immensely." The girls cannot wait to show the community what all of their hard work will earn them.