Tetris 99: The Puzzling Battle Royale Game
We all know Tetris, the falling block puzzle game that started it all. In 1985, it was released for the Nintendo Entertainment System (NES) and its popularity since soared. While many iterations, spin offs, and remasters of Tetris have come alight in the past 34 years, it may be safe to say that Tetris 99 is the most popular version of the game since the original. A free game on the Nintendo Switch, owners all over the world of the vastly popular gaming console have downloaded Tetris 99.
Tetris 99 doesn't actually add much to the original formula of Tetris; its claim to fame is that you can now play Tetris with up to 98 other people at a time. Simply put, whenever you start a new game of Tetris 99, it plops you into an arena with the other 98 players, and you play until you are either eliminated from the game or you manage to be the last player standing. This Battle Royale design, made popular by games such as Player Unknown: Battlegrounds, Fortnite, and most recently, Apex: Legends, is usually applied to shooting games, but Tetris 99 manages to make this format work for their ubiquitous puzzle game.
However, it wouldn't be much of a Battle Royale game if you couldn't interact with your opponents. How Tetris 99 showcases its multiplayer aspect is by giving you the ability to target players. You can choose random players, those close to being K.O.'d, those who are attacking you, or those who have the most badges. Then, whenever you clear multiple lines at once in your Tetris game, it will send lines of "garbage" to the targeted opponents. This "garbage" will clog up their board and force them closer to losing. If you manage to cause someone to lose via sending them "garbage," you will eliminate them from the game, and gain half a badge, plus any badges that player had. The more badges you have, the more "garbage" you can send to your opponents, essentially making you more powerful. Opponents can send "garbage" to you as well, but you can defend against it by clearing lines of blocks before it has appeared on your board.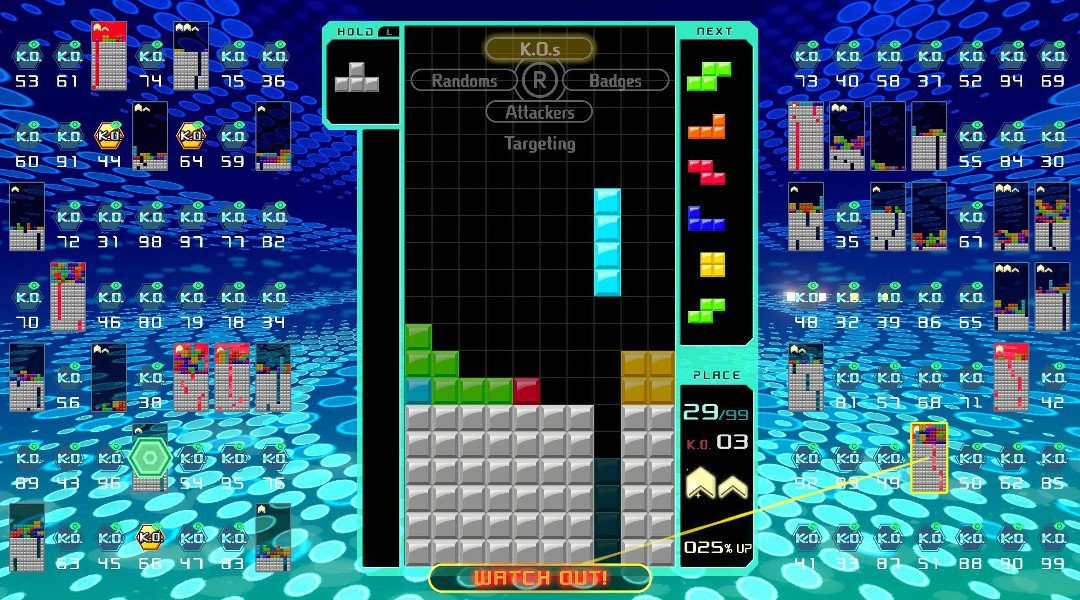 Tetris 99 is the same as any iteration of Tetris: addicting, clever, and rhythmic. It simply adds a new layer of challenge, as you now get to compete with an enormous amount of players. Although, I can't recommend Tetris 99 to everyone. Since it's a competitive puzzle game, players who aren't familiar with Tetris may not be able to keep up with the extra layer added to the game. It doesn't help that Tetris 99 doesn't even come with a tutorial or a single-player mode, so learning the controls can be quite a pain and will probably require you to make a quick Google search for instructions. The game is free however, and each game only lasts a maximum of 10 minutes, so it's a great pick-up-and-play title.
Tetris 99's fast paced gameplay, addicting nature, and clever use of online capabilities makes it a must play for those looking for a challenging puzzle game on the Switch. However, its lack of a tutorial makes the learning curve unnecessarily difficult without the use of outside sources, and it lacks a single-player mode. That being said, Tetris 99 is a free title, so it's difficult to complain. Tetris 99 gets a solid 7 out of 10 from me, that's all folks!