There has been an ongoing tension in Washington D.C. for months regarding the country's attitude towards border protection. President Trump wants to erect a steel wall over the border of Mexico and the United States. However, he can not collect the necessary funding to build such protection, as the Democratic Party refuses to financially support him. This disagreement has led to a partial shutdown of the United States government, with the threat of a national disaster looming over political figures.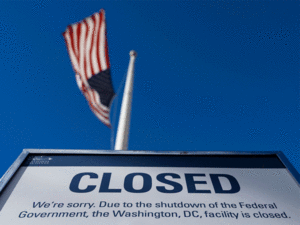 The government shutdown has affected people all around the country. 800,000 workers are now working without pay, which has thrown the lives of many into a state of chaos. People with secure jobs a month ago are now unpaid. Some can't pay their rent, and others can't feed their families. Many loyal employees still arrive at work during the shutdown, but many do not. There was an incident in the Jackson Hartsfield Airport, where a man accidentally brought a loaded gun on a flight from Atlanta to Japan. Thankfully, nobody was hurt. The TSA agents working at the airport have been calling in sick, due to "bad weather" or "heavy traffic." This understaffing could allow for a potentially fatal situation, and everyone is lucky that the gun owner had no malintent. Airport lines have also been excessively long, harming those who aren't even involved in the shutdown. The shutdown has made traveling even more of a chore than it usually is and even more dangerous as well.
The shutdown is deteriorating to the country, as well as its people. Parks in the Nation's Capital are overflowing with garbage. All nineteen Smithsonian Museums have closed until further notice. The bodies in charge of monitoring the beautiful and exotic oceans have dismissed their employees. The Food and Drug Administration has stopped inspecting some foods with risk of contamination, potentially leading to an increase in sickness.
The shutdown is the longest in history, currently clocking in at 23 days and the sooner the shutdown ends, the sooner the United States can recover from its damaging and devastating effects.