When I first saw Timothee Chalamet–playing the mysterious outsider Kyle in the 2017 film "Lady Bird"–I was allured by his gift for captivating an audience and saying so much in his actions. Still, I was rather intimidated by him due to the unkind nature of his character. I had not truly appreciated his talent of stepping into the role of his character until I watched several of his interviews. I was genuinely shocked that he was not as arrogant and presumptuous as his character. He had already grown quite a following and many had recognized and acclaimed his work.
I went on to watch "Call Me By Your Name," a picturesque, evocative film that took my breath away. It also was released in 2017, and Chalamet was only twenty-one at the time. He plays Elio, a shy seventeen-year-old boy who has a romantic affair with a graduate student working as an intern for his father. Chalamet's performance is raw and mature, defying his young age.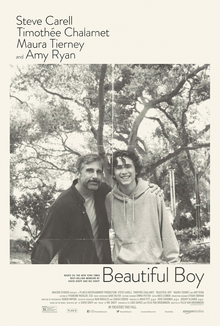 Although Chalamet is so young, he has already developed quite an impressive repertoire. When I heard that he would be in another film called "Beautiful Boy," I was eager to see what he would bring to the table. As a fan of Steve Carell as well, I was excited to see the chemistry between the two actors. Chalamet plays Nick Sheff, a teenager struggling with an addiction to methamphetamines. Carell plays his father, David Sheff, who desperately tries to save his son. The film is based on a memoir of the same name written by David Sheff. It is a heartbreaking depiction of how drug addiction affects close-knit families.
Timothee blew me away with his stark, accurate portrayals of Nick throughout the highs and lows of his addiction. At times he looked so frail and lifeless, but in younger depictions, he is youthful and jovial. After reading that he had lost 20 pounds just to play the role, I appreciated his acting even more. At such a young age, he had made drastic life decisions to present his craft in the most authentic way possible.
I acknowledge that the film wasn't perfect. At times the dynamic just didn't seem right and I wondered how people who had similar experiences with drug addiction reacted. But it is one of the most powerful films I have seen in awhile. I think there ought to be more films like "Beautiful Boy" that remove the glitter and romanticization from drug addiction and unabashedly show the raw truth.
Chalamet will be in several 2019 films, including "Little Women," "The King," and Wes Anderson's film, "The French Dispatch." I–and I'm sure many others–look forward to following Chalamet's career and seeing the amazing performances that he continues to bring to the table.