Why I Do Community Theatre
Acceptance. Love. Inclusion. These are just three reasons why I cherish every moment I spend in the Pebble Players Youth Theatre in Summit, NJ. After completing three rigorous shows with Pebble Players- "The Wedding Singer" (2016), "Legally Blonde the Musical" (2017), and most recently "Heathers: The Musical" (2018)- I have gained expertise and life changing experiences beyond what I would have ever anticipated.
In addition to the high-quality shows Pebble Players produces, Pebble Players has given me lifelong friends. When I walked into my first rehearsal for "The Wedding Singer" my sophomore year, I knew absolutely no one, and I was mortified. However, after I became adjusted to the new environment and warmed up to everyone, I was surrounded by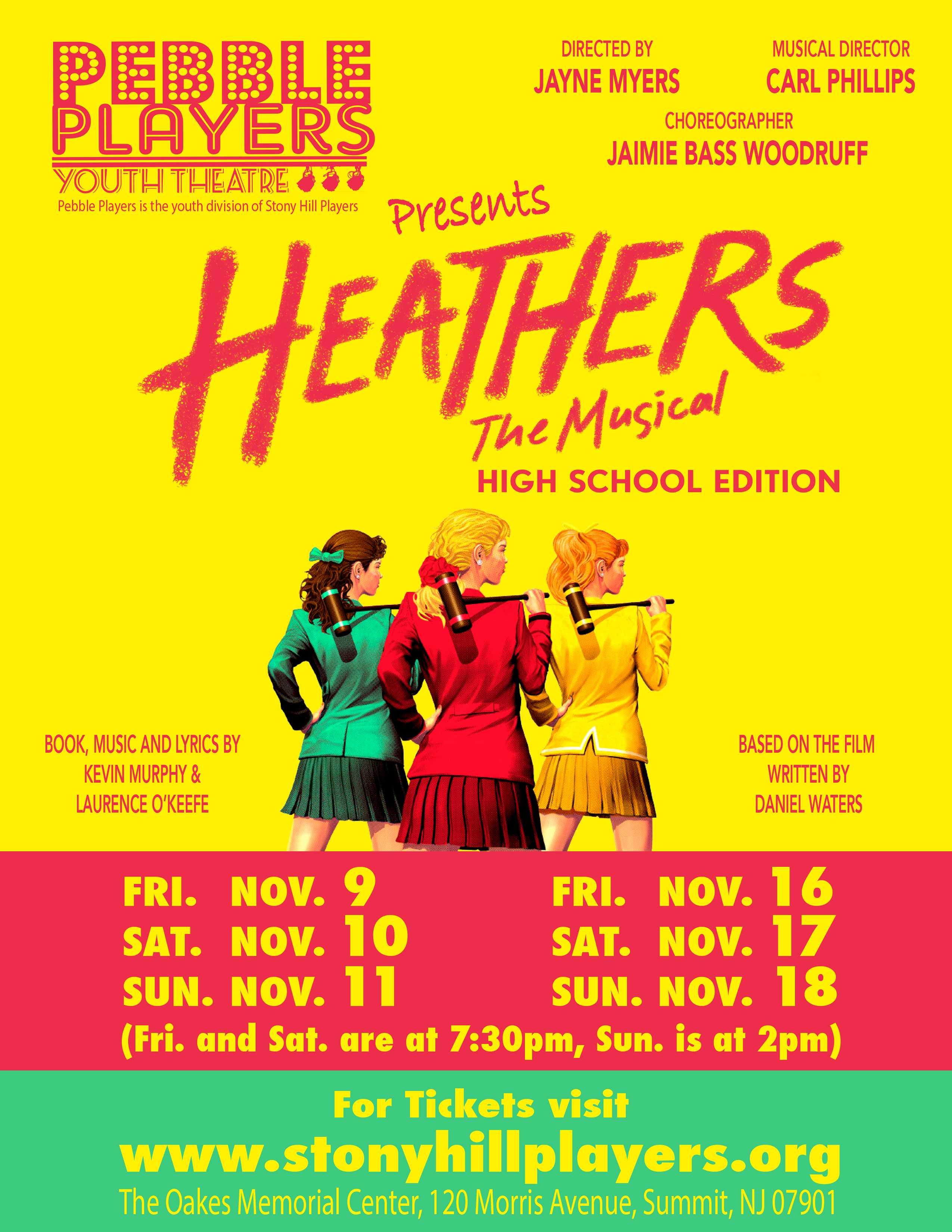 some of the kindest, most talented people I have ever met in my life. I soon looked forward to every rehearsal, where I could be in an atmosphere completely separate from school, and be welcomed by people who loved and respected me for my warm personality and theatrical ability. Some of these friends returned for "Legally Blonde the Musical" and "Heathers: The Musical", allowing me to strengthen my previous friendships while meeting even more new people. It amazes me to this day that I have close friends from around the state of New Jersey- from Green Brook, Mendham, and Springfield to Millburn, Livingston, and Parsippany.
If I was ever having a bad day or I was very stressed out from school, I could walk into the theatre for a Friday night rehearsal and immediately at least three of my cast mates would give me the biggest hugs, filling me with happiness. I have found everyone in community theatre to be utterly genuine and so supportive. There is no greater feeling than standing on stage belting a difficult high note and having the entire cast cheer for you in the audience. Their cheers have boosted my confidence and justified to me that I belong with Pebble Players singing alongside them.

Further, the production team of Pebble Players has been truly outstanding. From the amazing music director to the remarkable choreographer to the truly gifted director, I have learned so many incredible skills that I will carry with me as a performer for the rest of my life. The creative team's humor, guidance, and patience are qualities that contribute to each show's immeasurable success.
Since the curtain has recently closed on my final Pebble Players production on November 18, I am filled with utter sadness, better known as "post show depression." For the last two years, Pebble Players has been my happy place. Even amidst the chaos of seven hour tech rehearsals and weekends of heavy stress, I would not trade my experience with Pebble Players for anything.
In short, Pebble Players has introduced me to a new realm of beautiful friendships and has significantly fostered my love for theatre.