On Sunday, October, 7th 2018, Caldwell had their annual street fair. The street fair goes up Bloomfield Avenue and it has booths and attractions going up both sides of the street. The Avenue is blocked off so no cars can come through the fair, so the fair is completely safe. At the fair, they have booths representing different businesses and events, giveaways, rides, food trucks and special tours. The fair was crowded with people from all over Caldwell and neighboring towns. All people who went to the street fair found something to do there. Some people shopped, some road rides, and some sat down and enjoyed food from the many food trucks and restaurants throughout the avenue.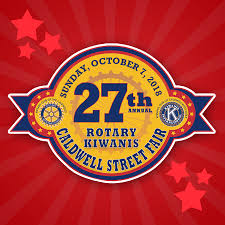 One event they had at the fair was the annual JCHS Key Club fundraiser. The Key Club raised money to support breast cancer and every penny they earned went to that cause. What the Key Club did is they had a bake sale that sold baked goods to people and they also walked around with buckets that anyone walking buy could put spare change in to support breast cancer. The Key Club raised a total of 400 dollars for breast cancer.
Another event that happened was a tour of the was a tour of the new Grover House. A bank was redone and now there is a bunch of businesses. People who are walking by can take a step in for air conditioning and tour the Grover House. When you walk in there is a nice hair salon with marble floors that looks like it was just bought out. You could go up another two floors and on both of the floors are offices. Outside the Grover House, they had booths for what businesses are going to be inside the Grover House.
Overall, the street fair was a fun experience filled with events and things that anyone can enjoy. I suggest that in 2019 that you go and check out the street fair and see for yourself the bunch of really cool things it has to offer.