September 29, 2018 was the fourteenth annual Soccer Saturday at James Caldwell High School. Soccer Saturday pays tribute to JCHS graduate, Colonel John McHugh, a high ranking officer who tragically lost his life serving the US military in the spring of 2010 in Afghanistan. McHugh became one of the highest ranking military officers to lose his life in Afghanistan since the war began. Each year, two senior soccer players are awarded the Col. John McHugh Award for their sportsmanship, good character on and off the field, and academic achievement. The 2018 recipients are seniors, Amelia Nicol and Adrian Haziri.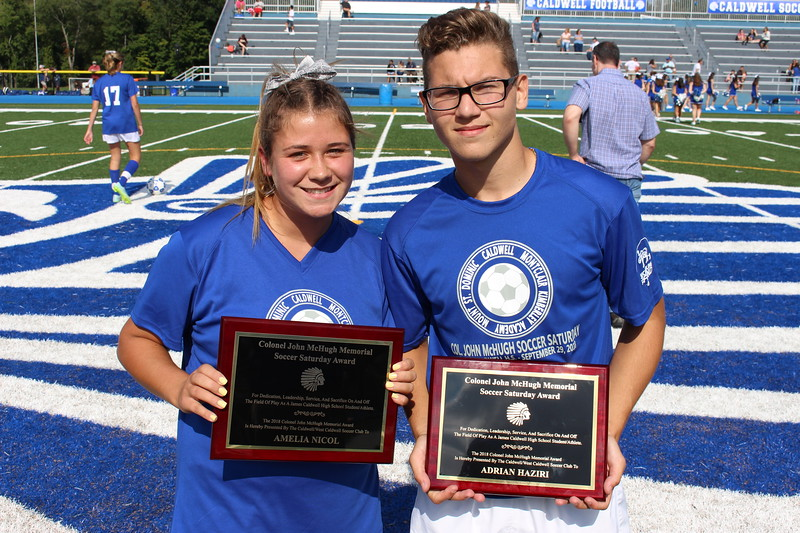 This year, Soccer Saturday also paid tribute to the Caroline Fund. The Caroline Fund is a nonprofit organization in support of brain cancer research in memory of Caroline Vandemark, a JCHS graduate who lost her life at just 22 years old to glioblastoma, an aggressive form of brain cancer, and her father Charlie Vandemark. The James Caldwell High School girls soccer team released balloons in memory of Caroline in a moving ceremony led by assistant coach and friend of Caroline Vandemark, Kelly Josephson.
Soccer Saturday began with the JCHS Boys Varsity Soccer team taking on a tough Montclair Kimberley Academy (MKA). Junior, Jaden Pezzola, scored a first half goal for Caldwell. Dylan Ladda of MKA scored two goals and Zach Wheeler of MKA scored one, making the final score 3-1 in favor of MKA. Caldwell goalkeeper, Ty Milano, had seven saves. The afternoon continued with the girls team facing Mount Saint Dominic Academy (MSDA). Brynn Caufield of MSDA scored a first half goal and Hannah Maqsudi of MSDA scored in the second half making the final score 2-1 MSDA. Caldwell goalkeeper Mackenna Tahbaz had an outstanding 15 saves. The Chiefs boys and girls soccer team look to finish off the 2018 season strong with a few games remaining.