It's 8:00 AM on a Saturday; I am sitting in the cafeteria at James Caldwell High School, the voices of freshmen and seniors alike are bouncing off the walls. On the table lay my work gloves and hammer. I am proudly sporting my bright blue Habitat for Humanity t-shirt which I have paired with my beat-up converse. The room is filled with over 125 students who came to build Vanessa and her son an affordable home as coordinated by Ms. Giampapa, Ms. Lincoln, Mr. Altonjy, and Ms. Gerde.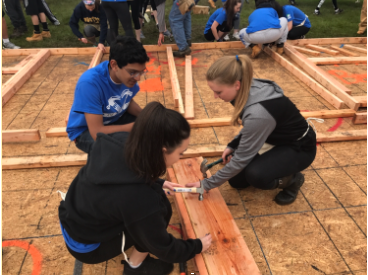 The cloudy day began with everyone split up into groups helping hammer nails into different wooden beams that would soon become the walls. Everyone's sneakers were drenched in mud, yet every single face was still stretched into a big grin. The metal symphony of hammers banging nails into place filled the air. An hour passed, the sun shone through the clouds, and, before we knew it, the first wall was ready to come up. Students grasped the wall, waited for the command of Tom, our construction leader, and then lifted the wall with all their might. We nailed the wall into place, and then everyone got right back to work.
By 12:00 we managed to get the four walls into place. The sun was shining brighter than ever and it was beating down on the worksite. Colorful sharpies were passed out to everyone, and we were able to sign the walls of the home we had built just three hours prior. Our  sentiments permanently written in sharpie were forever encased in the frame of the house. Our names, our stories, and our legacy of teamwork were glossy and highlighted by the rays of sun. The feeling of unity washed over the bones of the home.
We continued to build the frame of the house and had some fun along the way, too. Many were laughing at the inflatable tube man which was dancing in the air. We were all refreshed with some cool treats. Popsicles made for a perfect afternoon snack after all that hard work of hammering. After all the refreshing popsicles were devoured, everyone buckled down and finished their assigned tasks, continuing to nail the frame in place or using the power drill to cover the corners of the home to protect it from the weather.
When all was said and done, we were all proud of what we had accomplished. By only using our hands and our hearts, we created a home for a wonderful family.