Caldwell Democrats Host NJ Congressional Candidate Mikie Sherrill
Following the election of Donald Trump in November 2016, a grassroots group called the Caldwell Democrats was founded in Caldwell, NJ by Jonathan Lace and other community members who wished to be politically active at the local and national level. The group started out as a safe haven that allowed members to discuss their political views without being ostracized, but it quickly evolved into a group of passionate and vocal citizens with a lasting impact. The Caldwell Democrats hold monthly meetings to discuss problems and solutions to important issues in their community and have successfully produced several candidates for local offices.
On Sunday, May 6, 2018, the Caldwell Democrats hosted an event for Mikie Sherrill, a former Navy Pilot and federal prosecutor running for Congress in the 11th District of New Jersey. The members of the Caldwell Democrats were able to learn more about Mikie, her reasons for running, and her plans for the future. As she explained to the group, she decided to run for Congress after she felt that all her values as a veteran, as an Outreach and Reentry Coordinator for former prisoners, and as a mother were not being properly represented in the White House. In total, the question and answer session lasted roughly an hour.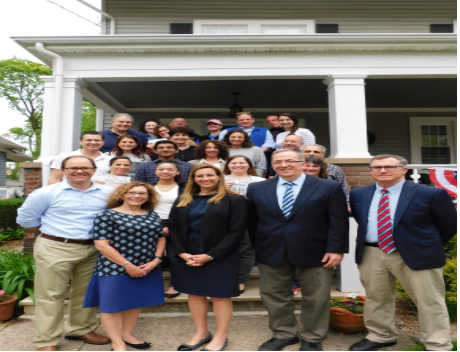 Following the event, Mikie commented, "One of the greatest things about running for office this year is seeing the grassroots energy coming from the residents of our community who are ready for new leadership in Washington. Our district deserves a Representative who is going to fight for New Jersey and who will focus on building a bright future for all of us. Groups like the Caldwell Democrats show that you can get involved and make a difference from right here in your own town."
The New Jersey Primary election will take place on June 5, 2018 where Mikie will compete against Tamara Harris and Mark Washburne among others in order to be the Democratic nominee for the 11th District of New Jersey. The general election is scheduled for November 6, 2018. Make sure to register to vote if you have not already and cast your ballot on election day.