Caldwell Baseball kicked off the 2018 season with a record of 7-8, and a record of 2-7 against SEC – American opponents. Caldwell commenced the 2018 season at home. Unfortunately, it ended in a loss at the hands of Millburn, by a score of 9-2. However, Caldwell was able to recover from the loss to Millburn by responding with a victory against Montclair on the Mounties' home field. Caldwell won that game 9-8.
The Chief's next two games ended in losses, to Nutley 1-0 and Livingston 6-2 respectively. However, Caldwell's next game was an absolute blow out when they were able to defeat Science Park 23-1. Four of Caldwell's players were perfect at the plate, including Jon DeMattheis, Frank DeMunno, Mike Maida, and Nick Zarkowski.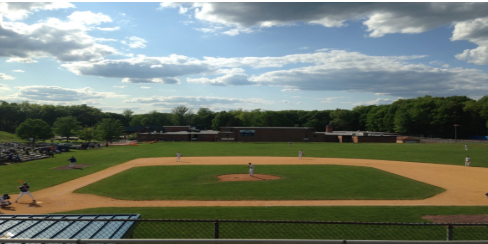 Caldwell's next two games came in losses to Seton Hall Prep and Newark Academy. Caldwell picked up another win following those two losses, with the win coming against Glen Ridge by a score of 10-2.
In Caldwell's next seven games, the team collected four wins. If Caldwell can continue this pattern, it is very likely the team can turn the season around for the better.
Leading the Blue and White in hits is senior, Mike Romano, with 15 hits and a .333 average. Romano also leads the team in runs, with 12. Junior, Ross Mehl leads the squad in RBI's with 11. When it comes to pitching, Bryce Bayard leads the bunch. Through 24.1 innings pitched, Bayard has an ERA of 2.3, as well with an impressive 28 strikeouts.
Junior, Nick Castellano, shared his two cents regarding the team. With the team having "4 new coaches in 4 years, it's hard to start fresh again. But many people did not think [the team] would be around .500 at this point in the season. In order to improve, [the team] needs to hit the ball more. Just putting the ball in play makes the other team get us out, and striking out just makes it easier for our opponent. Also, communication in the field could be better" for the team. Castellano believes that new head coach, Dennis Sasso, has influenced the team a lot and that the team has been improving as the season progresses. Castellano concluded that the team "could finish the season better than it started".
With the way things are going right now, it'd be a safe bet to say that the Chiefs will be climbing the SEC – American standings at an alarming rate.