The Gun Control Movement's Effect on Legislation
On March 24, 2018, a protest for better gun control took place in Washington, D.C. as well as in communities throughout the United States, and the world. The protest was lead and organized by students who were victims of the mass shooting at Marjory Stoneman Douglas High School. Seventeen people were killed and many more were injured. This created a call to action for gun control in the United States. March For Our Lives created a historic turn out. The organizers of the event estimate that there were 800,000 attendants on March 24, making it one of the largest protests in United States history, and the largest single day protest in Washington, D.C. history. March For Our Lives also had an emphasis on encouraging young people to register to vote and get involved in politics.
The march and the tragic shooting that have plagued the nation has inspired real change in gun control throughout the United States. In Oregon, a law was passed on March 5, banning those who have been convicted of domestic violence, stalking or are under a restraining order from buying or owning guns and ammunition. Rhode Island established a "red flag" system on February 27, to prevent people who might be a threat to the public from owning a gun. Florida, still mourning from the Parkland shooting, raised the minimum age to buy a rifle to 21 years old on March 9. Washington State banned the use of bumpstocks, a device at the end of a semi-automatic weapon that makes rapid fire easier because it lessens the recoil.
New Jersey is set to vote on several bills related to gun control. The proposed bills include bans on magazines holding more than 10 rounds, armor piercing ammunition, as well as enacting red flag laws and thorough background checks. Governor Phil Murphy of New Jersey spoke at the Newark March For Our Lives event. In his speech, he promised to fight against gun violence in schools as well as in New Jersey cities through gun control.
President Trump announced on March 23, via twitter, "As I promised, today the Department of Justice will issue the rule banning BUMP STOCKS with a mandated comment period. We will BAN all devices that turn legal weapons into illegal machine guns." This is what Washington State has already put into effect. The proposed federal legislation would define any guns with bump stocks as machine guns, therefore banning them. Although nothing has been put into effect it is already receiving backlash because bump stocks were designed to evade machine gun laws, and it is a possibility that they still can. Machine guns fire multiple bullets with one trigger, while semi-automatic bump stock weapons fire one bullet per pull of the trigger.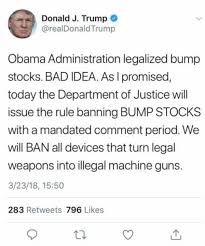 Trump had suggested adding mental health information into background checks, as well as raising purchase age of guns to 21 years old, but has since seemed to abandon the idea. He also suggested that teachers should be armed as a way to combat gun violence in schools. Other federal legislation that is in place is not used effectively or inforced. People hoping to buy guns apply through the National Instant Criminal Background Check System, and although it is a crime to lie on this application, the crime is rarely prosecuted. Overall, in comparison to the strides that states have been making in this past month, the federal government has not done much in way of gun control, both in terms of new laws, and keeping up old ones.
According to CNN the interest in gun control rises around the time of mass shootings, but then quickly fall in the time after. The problem with this trend is that people get hyper focused then lose interest. This is not an effective way to create permanent change because there is no one watching to make sure that permanent change happens. The new legislation that has come over the past month is step toward effective gun control, but only lasting focus and attention can make gun control as effective as it needs to be. The President's close ties to the National Rifle Association, or NRA, may be a sign that the federal government will ignore the people's call for gun control. Without any legislation put into effect by the federal government yet, it appears as if the President and Congress are waiting for conversation about gun control to die down. A goal of March For Our Lives as well as the National School Walkout Day, which students at James Caldwell High School participated in, was to make sure the fight against gun control is a movement not a moment, as stated in one of the mantras of March For Our Lives: "Never Again".
Emma Gonzalez, a Parkland survivor and leading activist spoke at March For Our Lives, concluding her 6 minutes and 20 seconds on the stage, the time in which the Marjory Stoneman Douglas High School shooting took place, with the statement "fight for your lives before it's someone else's job." The legislative action suggests that the movement for gun control in our country will have lasting effect, as long as students, teachers and all people, keep on marching for their lives and making representatives hear their voices.