Caldwell Wrestling
Caldwell Wrestling has always been one of Caldwell's most successful programs, consistently creating wrestlers in all weight classes who perform extremely well.  As in the case for most sports, the biggest match of the year for Caldwell is against West Essex.  Despite the match being away, more than 100 students from Caldwell High School attended, a turnout much greater than previously expected.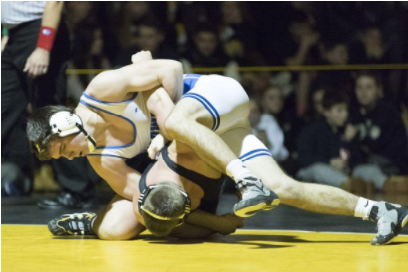 Although this match was much closer than expected, as Caldwell is 6-1 in the league while West Essex is 4-4, both Caldwell and West Essex students shared in the excitement and joy of the tense match.  Moreover, this match did not fail to disappoint, as Caldwell's performance was truly extraordinary.   Sophomore, Joe Jenkins, although losing, did not give up any bonus points, a truly astounding feat which helped Caldwell minimize the score of West Essex.  Senior, Kyle Schaffer, who won over Carmen Cucuzza in the last match of the night, sealed Caldwell's victory over the West Essex Nights 37-36.  It is truly unsurprising that he won the title of ShopRite Star for Athletics in James Caldwell High School.  This win would not be possible, however, without the other outstanding performances by Seniors: Stephen Murphy, Mark DeAngelis, and Alex Jones, Juniors, Gerald Jones and Alex Jones, and Freshman, Luke Schaffer.  
Despite many of Caldwell's wrestlers, such as Jason Frank and Ben Rivera, who usually do astounding, losing their matches, Caldwell was still able to pull out their third victory over West Essex in the past four years.  The future looks very promising for the Caldwell Wrestlers as State's approach and the team continues to grow more experienced both on the mats and in victory.