The Birth of Musical Fanaticism
In our modern age, famous musicians claim a strikingly unique social status. They perform in stadiums for thousands of supporters, surrounded by passionate energy from an audience that feels connected to the musical artist despite never having a personal encounter with them. Even the term "fan," short for fanatic, demonstrates this devotion that supporters have for their favorite artists. Even though fans were not always as hysteric as they are today, the birth of obsessive followers  does not begin where you probably expect.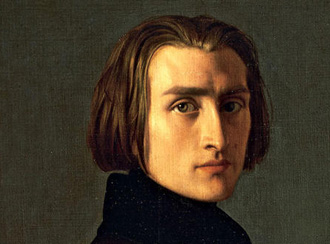 The first person to revolutionize the social status of a famous musician was the Hungarian composer Franz Liszt. Born on October 22, 1811, in Raiding, Hungary, Franz Liszt became a piano prodigy at the age of 6 and began composing music at 8 years old. Despite early success, Liszt struggled after his father died, questioning whether he wanted to pursue music. Much of the public assumed that Franz was a child star that flamed out and lost relevance, a progression that is still seen often in the acting and music world today, with people such as Lindsay Lohan or Britney Spears. Despite this setback, Liszt worked hard to restore his image and he re-entered the music world with vivacity. Liszt began touring all over Europe to perform concerts. He changed music performance forever by being one of the first pianists to play songs from memory rather than with sheet music, greatly impressing viewers. Additionally, Liszt possessed incredible improvisation skills, and he would make up pieces during his concerts based on tunes given to him by the audience. Liszt was not only well known for his immense musical talent but also for his handsome appearance which, combined with his Romantic style of playing and impressive memorization, led to a phenomenon that came to be known as "Lisztomania." The excitement that his patrons displayed was unmatched by any musician before him. Admirers of Liszt would surround him, begging for his handkerchiefs and gloves. Women would try to get locks of his hair or carry his portrait in brooches. Whenever he broke a piano string, admirers would scramble to obtain it in order to make a bracelet. Some female admirers went as far as to carry around viles to collect his coffee dregs.
Looking back on that time period from today's perspective, most people from the 21st century assume that the 19th century public behaved in a strict, serious manner at classical music performances. It is strange to imagine someone behaving the same way at a concert nearly 200 years ago as they do now at a Beyonce, Drake, or BTS performance. However, Lisztomania proves that the sensation surrounding musicians has existed for quite a long time.
Franz Liszt went on to write over 700 compositions, leaving a legacy as one of the greatest composers of the Romantic Period. Overall, music history is truly fascinating and surprising, much more so than many people imagine. The fact that social trends from such a long time ago still exist today prove that music is truly part of what makes us human, and its history deserves recognition and exploration.