"Lady Bird," while technically a coming of age drama, is so much more than that. The movie is set in 2002 and follows 17 year-old, Christine 'Lady Bird' McPherson (Saoirse Ronan). She calls herself Lady Bird because she believes that if her parents can give her a name, then she can give herself a name as well. She is an independently driven young woman, starting her senior year in a Sacramento Catholic High School. She longs for a life that is bigger than what she is handed, and is determined go to college on the east coast, because she claims that is where culture is. She is even reinventing herself in ways that are influenced by what is going on around her. She learns that life is not about her and that things will not always go her way. Lady Bird navigates through her senior year by making friends, experiencing romance, and attempting to live life her own way.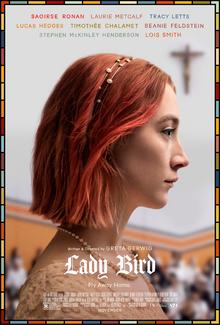 The real crux of the movie is Lady Bird's relationship with her mother (Laurie Metcalf). Her relationship, like most, has its ups and downs. Their relationship makes the whole movie feel genuine. They fight, but not in the way that it is often portrayed in media, there is no huge blow out fights that send the main character on a specific path. Lady Bird and her mother rather have conversations that constantly twist and turn from fights to endearment. This is seamless to watch because of Laurie Metcalf's incredible performance. She has the stolid face of a mother who does not want a child to know when she is truly sad, but within a second, she can show that emotion to the viewer. This creates a beautiful relationship of much tribulation, but also genuine love.
Lady Bird experiences her first love. She falls head over heels in love with two boys at separate times in the year. One, Danny O'Neil (Lucas Hedges), is part of the drama club that she joined that year. This, being one of her first real relationships, is more innocent in nature. Lady Bird and Danny truly care for one another and have a deep emotional connection. Their relationship, for many reasons, was more emotional than physical. Towards the second half of the year, Lady Bird and Danny have a falling out, and Lady Bird meets someone new. Kyle Scheble (Timothee Chalamet) is juxtaposed with Danny. Lady Bird is so interested in being with Kyle that she forgets herself. She and him have nothing real in common, and this creates a very physical relationship that lacks emotional depth. These two experiences with two very different people bring her further into adulthood and allows her to move away from previous naiveness. From these two people she comes to understand that meaning in relationships, while not always present, is essential to a deeper emotional understanding.
"Lady Bird" is a movie that defies its own genre. It reinvests the coming of age trope by putting its own spin on it, and that spin is reality. The public has fallen into a rut where coming of age stories follow the same pattern of perfect lives that only have the appearance of disheveledness. These lives are pieced back together and wrapped with a bow by the last reel, but this is not real life. Life is messier and rawer than that. That is what Greta Gerwig, the writer and director of "Lady Bird," understands. Nothing in the movie is pulled back together again by the end. Lady Bird simply accepts herself as Christine, her given name, and just keeps living more days without reason or plan. She comes to a conclusion of adolescence, but that is certainly not the conclusion of her life.
"Lady Bird" is significant for high schoolers, or anyone else for that matter, to see because it is something that all can relate to. Christine 'Lady Bird' McPherson's story is a human story. It is much bigger than the story of a 17 year old girl, because it is the journey of a person. What Lady Bird goes through at this time in her life can happen at any time: a metamorphosis of character. She experiences a metamorphosis from who she was, to what she can be. She devolves through the help of her mother, and her experiences in high school. She allows herself to experience life in different ways as she navigates through life. Through this process, she not only begins to understand herself, but life and how to live in the world. This movie reminds people that it's okay to be unsure of who you are or who you want to be. More importantly, it shows that life is an ever developing journey of heartbreak, contemplation, joy and reinvention.