To kick off the 2017 season, both the boys and girls swimming squads came away with two decisive victories.
The girls' swimming squad secured their first win of the season against Montclair Kimberley Academy by a score of 125-44. Junior Elizabeth Murray swam an impressive 2:08.47 on the 200 freestyle. On the 500 freestyle, Murray recorded a time of 5:48.59. Sophomore Katie Cipoletti swam the 100 freestyle in 59.02 and a 1:07.52 on the 100 backstroke. However, in the following meet Caldwell lost to Montclair in a close affair, losing 92-78. Regardless, Caldwell was able to secure a win against Glen Ridge, the score resting at 106-46. Cipoletti recorded yet another 100 freestyle in under a minute, clocking in at 58.33. Despite this, Caldwell will face "some tough opponents later in the season, like West Orange, who are the reigning county champions," Elizabeth Murray said, still confident the season will go swimmingly. Murray says the squad has "great potential and new rising leaders," this season.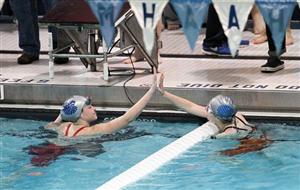 Caldwell Boys Swimming began the year in a similar fashion the girls squad, with two wins and a loss. The boys team's first win was obtained against Montclair Kimberley Academy, 117-42. Senior Alex Rosa swam a 58.87 on the 100 freestyle. Caldwell's first loss came at the hands of Montclair by a score of 107-63. The boys bounced back in the next game against Glen Ridge, winning 101-57. Senior Perry Mesica brought in a time of 1:52.89 on the 200 freestyle, as well as a 58.02 on the 100 butterfly.
Both squads have upcoming games against West Essex on December 19th at 7:00 P.M. and another against Columbia on January 9th at 8:30 P.M.