By Justin Kuczborski
Caldwell Boys Soccer concluded the 2017 season with a loss to Morris Tech 1-0, but the season was far from a disappointment. If anything, the 2017 season for the Blue and White was an improvement after going 9-10-1 last year to 10-9-1 this year.
While the 10- record for the Chiefs may not be a pretty sight, that record was enough for Caldwell to topple SEC – Liberty Division, with a Conference record of 7-0. Behind them was Columbia, whose record came to be 10-7-1.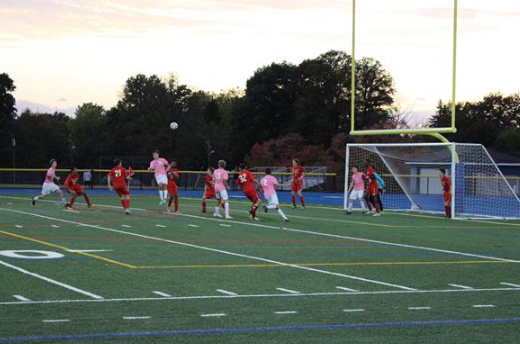 Caldwell had a plentiful amount of goal scorers, with Senior, Danny Cavallo, leading the team with 13 goals. Behind Cavallo was Sophomore, Carson Filion, and Senior, Steven Blas, netting ten and six goals respectively. Filion was the Chiefs' maestro in passing prowess, tallying up ten assists on the year. Goalkeeper Tom Healy was Caldwell's brick in net, saving 118 shots that came his way.
However, there is no 'I' in team, and as a team Caldwell bagged 41 goals over the course of 20 games, thus averaging 2.05 goals a game. Defensively, the Chiefs allowed 40 goals with two goals against per game. The Chiefs goal differential came out to be +1 this season.
Prolific attacker, Steven Blas, felt that "the season went great, although" a rather "difficult season with teammates getting injured was very unexpected." Even though the record was not astonishing, Blas and the rest of his teammates "just wanted to go out there and play soccer" and keep their heads held high. That attitude Caldwell displayed on the pitch ultimately propelled them to winning the SEC – Liberty Division.