Appreciation for Alexandra Raisman: Part Two
Last year, I wrote a piece entitled "Appreciation for Alexandra Raisman," in which I analyzed the gymnast's most noteworthy traits – the characteristics that, in my opinion, make her an incredible female role model. The United States Women's Gymnastics Team has been a source of inspiration and motivation for me since the year I understood what the Olympics were. Each team, never lacking in strength, power, or confidence, has empowered me in some way. From Nastia Liukin's rise to fame in 2008 to Simone Biles's reign of the sport in 2016, these women have made anything seem possible. My confidence grew immensely simply by keeping tabs on the powerhouse of a team that these gymnasts created year after year. At a young age, I found that my mentality was always, "If Aly can learn how to flip back and forth on a balance beam, I can do whatever I set my mind to, too."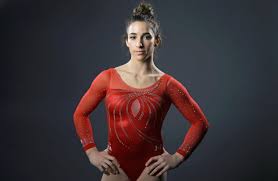 Making it to the top of the podium shouldn't ever come easily. Completing the challenge of reaching success is what makes the experience so rewarding. What should come easily is the expectation of having a group of knowledgeable and decent coaches and doctors helping to shape one's success.
Alexandra Raisman, through an interview on CBS's 60 Minutes broadcast, came forward with her story of how sexual abuse was a constant during her quest for gold, and how her doctor, Larry Nassar, had begun this cycle in Aly's life when she was just fifteen years old.
Hearing the stories of women who have faced sexual assault while attempting to create their own personal success is no longer shocking. What is also not shocking, yet a little more sickening, is the doubtfulness that society has when faced with an account of sexual misconduct. The constant denouncing of sexual misconduct in the United States has become extremely difficult to watch. When asked why the girls being abused by Nassar hadn't come forward earlier, Aly retorted, "Why are we looking at why didn't the girls speak up? Why not look at 'What about the culture?' What did USA Gymnastics do, and Larry Nassar do, to manipulate these girls so much that they are so afraid to speak up?"
Being the victim of sexual abuse always comes with an overall feeling of humiliation – humiliation that stems from the confusion, guilt, and helplessness that comes from this situation. Tackling this whirlwind of negative emotion is overwhelming and seemingly impossible for anyone, of any age – especially for a fifteen year old girl, too innocent to know what was happening, and too focused on a childhood dream to put an end to the vicious cycle.
I have always admired Aly's bravery, but in a juvenile way – I admired her courage to perform, the way she never gave up, and the leader she became for the USA gymnastics team. Yet, her bravery runs much deeper. In the crowd of voices finally addressing injustice, hers is heard.