It has been a week since the tragic mass shooting of the First Baptist Church of Sutherland Springs in Texas. Devin Kelley entered the church and opened fire, killing 26 innocent people, including a pregnant woman with her unborn child. Among those killed, 8 of them were teenagers and children. However, even in these times of despair, the people of the First Baptist Church have begun to heal their wounds with hope and love during their Sunday service in a nearby community center.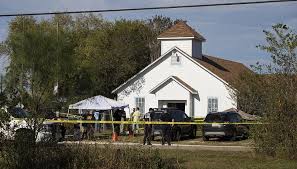 While there are many debates on whether gun control should be enforced or not, the citizens of Sutherland Springs believe that in order to prevent another mass shooting, they must change the culture that affected the shooter's actions. Devin Kelley had a history of domestic violence and was convicted of assaulting both his wife and stepson in 2012, and had served time in a military prison. He ultimately died due to a self-inflicted gunshot wound.
The pastor of the church, Frank Pomeroy, who had lost his 14 year old daughter due to the shooting, preached to Sutherland Spring residents, "We have the freedom to choose, and rather than choose darkness as this one young man did that day, I say we choose light." The strength and the courage of the church is displayed as they decide to turn to their faith to cope with the loss of many loved ones. The site of the shooting will also become a memorial to honor the 26 victims.