Chiefs Football Starts Off 2017 Season at 4-1
For the first time since 2014, the Caldwell Chiefs kick off the season with an impressive record of 5-1. However, much like the 2016 season, the Chiefs high-powered offense continued to flourish on the gridiron.
Junior, Vin Fano, of the Caldwell Chiefs believes "the season is going very well, the team works very hard everyday to get better to face a tougher opponent each week".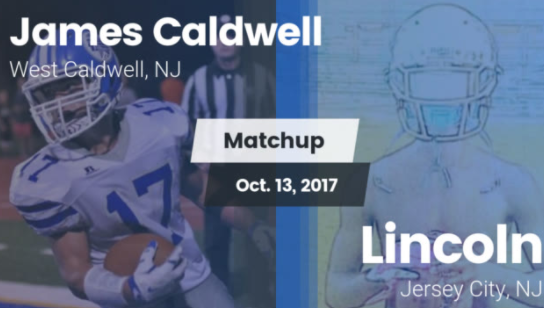 In Caldwell's first six games in 2016, the Blue and White scored 166 points, averaging 27.67 points a game. Caldwell displayed vast improvement in the scoring department in the 2017 season, scoring 190 points in the first six games, along with a 31.67 points per game average.
To commence the 2017 season, Caldwell clashed helmets with West Side. Caldwell came away with the victory, 15-6, with James Miller and Brian Clarkin getting on the score sheet.
Caldwell was just able to come away with the victory in the inaugural game of the 2017, however, the following game against Parsippany proved that Caldwell's offense remains explosive. Caldwell obliterated Parsippany by a score of 44-0. Chiefs' running back, Anthony Costigan, had himself a day, plowing through the Red Hawks' defense for two rushing touchdowns, along with 70 rushing yards. Quarterback, Brian Clarkin, accumulated 168 yards and two touchdowns through the air against Parsippany.
Caldwell's second shutout came against Millburn, locking the Millers down 35-0. Star wide receiver and senior, James Miller, continued his impressive 2017 form, collecting two receiving touchdown, with 60 yards on top of that with only three receptions. Brian Clarkin continued to pad his stats against Millburn, throwing for three touchdowns on 13 attempts for 143 yards.
The infamous rivalry between the Caldwell Chiefs and the West Essex Knights came to fruition in the third game of the season. Unfortunately for the Chiefs, West essex had the last laugh this season, coming away with the 31-14 victory on the Knights' home turf.
However, the Chiefs held their heads high, bouncing back the next game against Montville. Caldwell came out on top 38-7, shutting out Montville 25-0 by halftime. The one-two punch combo of Brian Clarkin and James Miller had themselves their best game of the 2017 thus far. Clarkin threw for 275 yards on only 23 attempts with three touchdowns. All three of Clarkin's touchdowns were heaved up to James Miller, who caught for 164 yards. As well, Caldwell rushed for 245 yards via five different running backs. To say the least, Caldwell had their best statistical game of the 2017 so far against Montville.
In the following game, Caldwell shut out the Lincoln Lions by a score of 44-0. This shutout marks Caldwell's third shutout of the season. Clarkin threw for only 93 yards, along with one touchdown and one interception. Most certainly not Clarkin's strongest game, but that was of no concern, as the run game for Caldwell came to play. Costigan ran for 59 yards on 15 attempts with two touchdowns. As well, sophomore Joe Jenkins rushed for 62 yards on 12 attempts, also with two touchdowns.
In the first six games of the 2017 season, Caldwell has a compelling record of 6-1, enough for a first place tie in the NJSFC – American Blue conference. Clarkin has thrown for 838 yards on 68 attempts, with nine touchdowns and only two interceptions. Receiver James T. Miller leads the team in receiving yards, with 477 yards on only 20 attempts, as well with seven touchdowns. Luckily for Caldwell, they have a star duo on the ground, with Anthony Costigan and Joe Jenkins. Costigan has rushed for 291 yards and scored five touchdowns. Much like Costigan, Jenkins scored five touchdowns, however has rusbed for 222 yards. On the defensive side, Costigan leads the team in tackles, with 34.
Caldwell look to continue their pursuit for a first place position as they play the equally impressive Mountain Lakes away from home on October 20 at 7 P.M.