Girl's Varsity Volleyball
Thanks to new varsity coach, Rachel Kelly, and new assistant varsity  coach, Chris Terranova, the Girl's Varsity Caldwell Chiefs Volleyball team is 12-6 so far this season. Ranked 4th in the county, with a week long winning streak, the team has the potential to face the undefeated Verona in the county semifinal.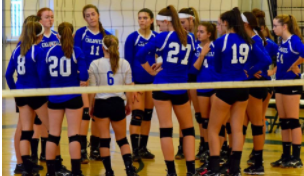 Through daily three hour practices, injuries, and the toughest losses, our team has a chemistry like no other. The varsity and JV teams practice together, have pasta parties together, fundraise together, and spend hours upon hours together each day. This makes us all one big family. As a senior, I could not thank these girls enough for making the court my home away from home. Spending everyday of every fall on the court these past four years, the team could always count on our number one fan, Mr. Bishop, who shows up to almost every home game. Even though new girls come and seniors leave every year, it is traditions like these that keep the heart of the program alive. Seniors; Sydney De Lorenzo, Daniella Ricci, Casey Justice, Maddie Sloan, Alexa Tomaio, and Nikki Caradimitropoulo, know that even though the end of their last season is approaching, it is not over yet. The girls have their senior night, dig pink fundraiser, county tournament, and state tournament left to look forward to. The varsity team will not give up and continue their fight until the last point of the season is scored. When this moment comes, tears will flow from tired eyes, but each and every one of our hearts will be full, knowing that the dedication and love for this sport after endless years will never be forgotten.