This year JCHS is taking a new approach to its annual fall drama; there will be two one act plays instead of one two act play. The first of the bunch is "Twice Upon A Time": the twisted story of three witches (loosely based on Shakespeare's "Macbeth") who keep accidently spawning princesses into their cave, and the only way they can get rid of them is through a spell book they foolishly lose. This show is a journey full of surprises as the witches struggle to keep the princesses and a few other miscellaneous characters in line while they hunt for their spell book. The second play, "The Surprising Story of the Three Little Pigs," features a narrator having to tell every story in fairytale land. Things are shaken up when the stories get crossed; our favorite fairytale creatures can no longer tell their tale. Will the three pigs, three goats, and three bears be able to keep up and relearn their classic stories?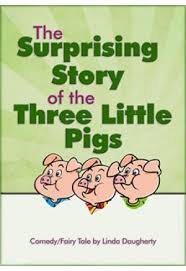 I decided to find out more about these two plays from Theatre Arts Club Co-Vice President, Giulia Russo, who is also playing a few roles in the upcoming fall drama. Giulia is a junior and has been an avid participant in the theatre productions at JCHS since her freshman year, so I was not surprised with her eagerness to answer a few of my questions about these imminent fall shows.
Q1: How are "Twice Upon A Time" and "The Surprising Story of the Three Little Pigs" unlike anything JCHS has put on in the past few years?
A: I would say these shows are unlike anything JCHS has put on in the past few years because they are specifically catered toward children and include lots of characters that are well known, but there is a twist in each of them that keeps them new and exciting. Also, they are two completely different one act plays, so it gives cast members the opportunity to really connect with different stories and characters.
Q2: Tell us about your character.
A: In Twice Upon a Time I play Fermelda, one of the witches. Fermelda has a short temper, and is constantly putting up with the bickering of her fellow witches Slug and Grub. In "The Surprising Story of the Three Little Pigs," I play the voice, who narrates the stories and is in a constant state of anguish and panic due to her stories intertwining and not running smoothly.
Q3: What do you hope the audience takes away from the show(s)?
A: I, of course, hope the audience takes away excitement and joy from the pieces, but more importantly, sees the bigger message. Although they have the facade of goofy plays, the morals behind them are powerful. The messages prompt that no matter who you are, you can write your own story, and be whoever you want to be, because your life is completely written by you. Although there are bumps in the road, you can truly have an impact on the life you want to live. I believe that the audience will be able to take away these lessons while watching, but also have an enjoyable and lighthearted time.
You can see "The Surprising Story of the Three Little Pigs" on November 17 at 6:00 p.m. and November 18 at 10 a.m., and "Twice Upon A Time" November 18 at 6:00 p.m. and November 19 at 2:00 p.m in the CPA.