Soccer Saturday is by far one of the biggest sporting events at James Caldwell High School. Midway through the fall sports season, every soccer team from James Caldwell High School is scheduled to play a home game throughout the course of one Saturday. In prior years, only the Varsity teams were able to play on Bonnell Field, while the Freshman and Junior Varsity teams played contemporaneously on the upper and lower fields across the street. This year, however, all teams played on Bonnell Field, in honor of its completion. Since each team played one after another, this was the longest Soccer Saturday ever, running from 11 in the morning to almost 10:30 at night.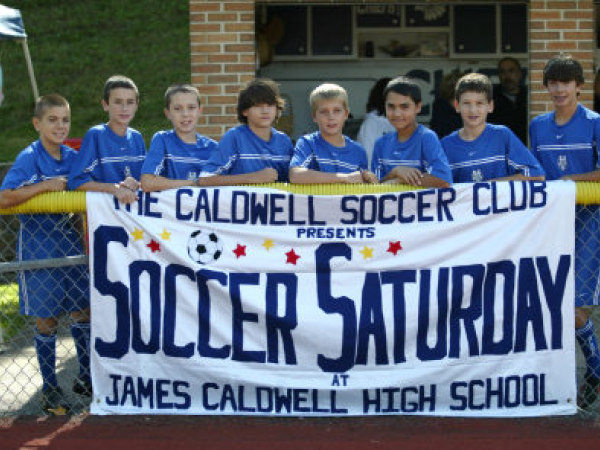 Upon opening ceremonies this year, Danny Cavallo and Katie Kinsella received the Col John McHugh Award, for their outstanding leadership and performance on the Varsity fields this season.
Their distinct pink uniforms were worn by all of the Caldwell teams on Soccer Saturday this year, to show respect for Breast Cancer Awareness Month.
The girls' teams suffered extreme difficulties against competitive teams. The Junior Varsity team fought very hard and ended up tying against Mt. Saint Dominic one all. Freshman, Veronica Wertz, scored the only goal for Caldwell, continuing to show great potential for a Freshman. However, the Varsity team, was shutout 3-0 by Mt. Saint Dominic. Caldwell seemed to have an off day and could not make any play towards the opposing goal successfully. This is the first time in Caldwell history that they have suffered a loss to Mt. Saint Dominic. Sophomore, Makenna Tahbaz, continues to show her outstanding ability as a goalie. She currently has 156 saves this season and is being ranked as one of the top 75 female sophomore players in the state.  Despite this tragic loss, the Varsity team is keeping their heads held high and look to have a successful season.
The boys' team had better outcomes in their three games against the Glen Ridge Ridgers.  The Varsity team beat the Ridgers 2-0. Both of those goals were scored within five minutes of each other, one by Junior, Adrian Haziri. Junior, Nick Pyontek, received a brutal knee injury when he was hit by an opposing Ridger. Pyontek has torn a ligament in his knee and this will be the fourth leg injury that will take out a player from the Varsity boys team this season. The Junior Varsity boys team, moreover, shut out the Ridgers as well, winning 6-0.  Sophomore, Ben Kopen, had an incredible game, scoring a hat trick. The other three goals were scored in successive order by: Sophomore, George Epitropakis; Freshman, Scott Bivona; and Junior Spencer Solomon. The Freshman boys were the only boys team that suffered a loss to the Ridgers yesterday.  The final result was loss by a score of 3-2.  The two goals for Caldwell were scored by Brendan O'Donnell and Daniel Carr.
All of Caldwell hopes that the boys continue to have a terrific season and that the girls will use their hard fought loss to urge them to continue to fight.