2017 Key Club Fall Rally
With over 150 members, Key Club is by far the largest club at James Caldwell High School led by Presidents Vincent Cheung and Juan Riestra. By the start of the new school year, the Key Club service year was already in full swing. Having completed service projects such as technology support for Crane's Mill residents and fundraising for the American Cancer Society at the Caldwell Street Fair, Key Clubbers were clearly eager to volunteer their time for well-deserving causes.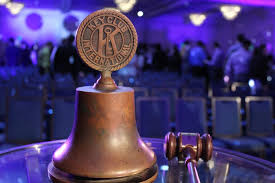 On October 8, 2017, over 3,000 New Jersey Key Clubbers gathered at Six Flags Great Adventure for the annual Fall Rally. Led into an amphitheater, students from all over the state watched as the State Board gave a series of speeches regarding goals and objectives for the remainder of the year. One powerful speaker related his story of bringing clean water to remote African tribes, inspiring the audience to seize opportunities and contribute in any capacity possible.
Each of the representatives of the Mountains That We Can Move Together, was asked to contribute food items and non-perishables for the New Jersey Federation of Food Banks. Seeing the sheer volume of food filling up cart after cart was a true testament of the dedication and regard that students have for their fellow New Jersey residents.
Following the presentation of the highly coveted Spirit Stick, students were free to roam the amusement park and go on rides to their hearts' content. Not even rain could put a damper on the mood of those students dedicated to helping their communities. After a day of roller coasters and fried food, the busses filled up once again with students inspired to achieve communal prosperity.