Chiefs Baseball Continues to Perform Halfway Through 2017 Season
It is safe to say that Chiefs Baseball is heading on the right track. With help from new head coach and former West Essex head coach, Scott Illiano, the Chiefs only lost two games out of their twelve league games, as well as accumulating a record of thirteen wins and four losses overall.
The Chiefs kicked off the 2017 season with a bang on April 1, defeating Belleville 16-4. Caldwell put the ball in play eleven times, outmatching Belleville on the scoreboard and on hits.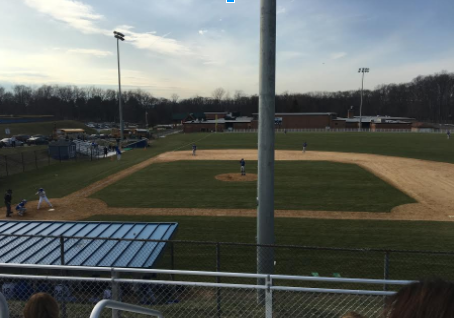 After falling to Montclair on April 3 by a score of 9-1, Caldwell flipped on the switch. The Chiefs went on to win six games in a row. In four out of those six games, Caldwell's score reached into the double digits, as well as scoring a total of 69 runs. Only 29 runs got pass Caldwell in those six games, proving the defense has stepped up from last years lackluster defense.
Caldwell's winning streak came to an end at the hands of another 9-1 loss, but this time to Millburn. However, this loss did not deter Caldwell.
Caldwell came back strong by defeating Plainfield 15-4, as well as coming out victorious against Montclair Kimberley Academy (MKA) 16-8.
Following Caldwell's rout of Plainfield and MKA, they dropped two games in a row to Newark East Side by a score of 3-2 and to Cedar Grove by a score of 7-5.
The Chiefs were able to pick up their impressive form by winning four games in a row, as of May 4. Caldwell converted 51 runs throughout their current four game winning streak, while allowing 21. Caldwell knocked off Columbia 6-2 on April 29, while their offense showed up in the next three games; scoring fourteen runs against MKA and Glen Ridge, which included an eight run comeback in the fifth inning. In Caldwell's fourth game in their on-going winning streak, they blew out Newark Tech 17-3; Caldwell's sixth game in which they won by ten runs or more.
Over the course of Caldwell's seventeen games, ten of those had Caldwell holding their opponents to less than five runs. 94 runs slipped through Caldwell's fingers so far this season, which looks microscopic compared to the 176 runs Caldwell brought in.
With Scott Illiano leading the tribe, the future for Caldwell looks rather bright compared to years past. Caldwell will confront Newark East Side on May 6 away from home at 4 P.M.