"YouTube's Restriction Mode Causes Conflict with the LGBTQ+ Community"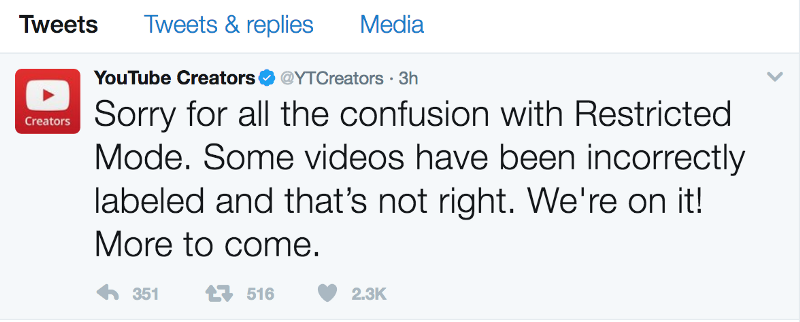 Many creators and users have been complaining about the Restricted Mode on YouTube which is an optional parental-control feature that avoids content that has been flagged by an algorithm. Restricted Mode was launched in December of 2015, it was just one of the new changes that the platform has created in order to censor inappropriate content to make YouTube a more "family friendly" environment.
Fans alerted LGBTQ+ YouTubers on social media that their videos were being hidden. Restricted Mode blocked LGBTQ+  videos that had nothing to do with LGBTQ+ issues, and other videos made by the community regardless of the content. YouTubers were very outspoken on twitter about the problem of censoring the LGBTQ+ community.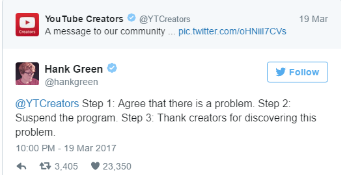 YouTube did apologize for the conflict the Restriction Mode caused, and they sent out a tweet to the community: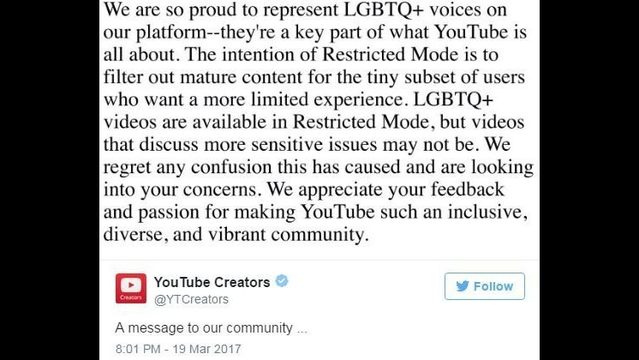 This was not the first time YouTube has faced a problem to try to change their policies to appeal to more advertisers. For instance, in August of 2016, Youtubers fought the platform after their monetization, which is revenue from the ads on their videos, got disabled since the content was not "advertiser-friendly." The official guidelines for YouTube content restricts "sexually suggestive content, violence, inappropriate language, promotion of drugs and regulated substances, and controversial or sensitive subjects and events" for "advertising- friendly" content.