Among the thousands of existing musicals, Legally Blonde is known as being fun, peppy, and very lighthearted. Back when our theatre department was deciding on this year's spring musical, our director let us vote out of four options, including Legally Blonde. He described Legally Blonde as being the silliest and most fun out of our options, but he also warned us that it may come across as "two-dimensional" compared to the other selections, like Into The Woods or The Secret Garden, two shows that are known for having a much denser story than that of Elle Woods' journey through Harvard Law School.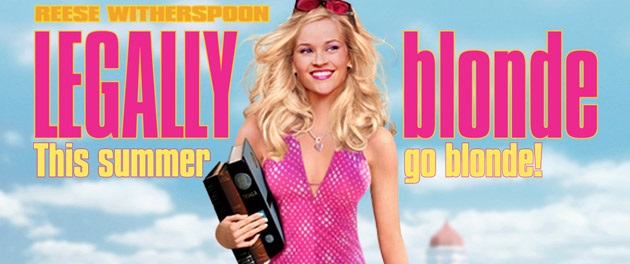 Before the rehearsal process started, the last time I actually watched Legally Blonde the movie from start to finish was when I was nine or ten years old. I'm sure that ten-year-old me didn't really get passed the surface of the story- a blonde sorority sister follows a boy to Harvard Law School where she finds out that she has more to offer than she originally thought. I knew that the show was going to be really fun to piece together, but I didn't have any expectations for the plot that went passed my general understanding of the story. However, as the show finally came together, I realized how much greater of a message this musical leaves with its audience than what I originally thought.
The show opens with Elle Woods, the blonde, UCLA Delta Nu protagonist of the story, who is anxiously waiting for her boyfriend, Warner Huntington the Third, to propose to her (which, of course, does not go the way she had planned). Within the first three numbers of the show, Elle proves herself to be a walking oxymoron. She's a blonde, happy-go-lucky sorority sister, dressed in head-to-toe pink and carries her lap dog everywhere she goes; yet she also has a 4.0 in fashion merchandising and scores a 175 on her LSATs. But because of what she looks like on the outside, no one takes her seriously. Her (now) ex-boyfriend looks at her as a blonde joke, as well as her parents, and even the Harvard Admissions officers who review her application.
Her first couple of months at Harvard are, as expected, a little rough. Warner is engaged to "an evil preppy," she's getting kicked out of her classes, and she's become a joke among her classmates. Yet, even in the mess Elle gets herself into, she's able to turn her fate around. With the help of fellow Harvard law student Emmett Forrest, she goes from a joke to an inspiration. She finally realizes that she is not defined by Warner. She has her own life, her own brain, and by the second act of the show, it's clear that she's finally using it for the right purposes.
Elle spends the rest of her time in college doing all of the classic, super fun things that most sorority girls can be found doing, such as proving a famous fitness icon innocent after she is convicted of murdering her husband, and Elle even becomes the valedictorian of the most prestigious learning institution in the United States. She ends up rejecting Warner after he tries to propose to her, because now that she knows who she truly is, she realizes she doesn't need a boy who barely appreciates her just to validate herself as a person. While she rejects one marriage proposal, she makes one of her own, and asks Emmett to marry her- at this point, she's one of the most influential women of her time- she's done with waiting for other people to act upon things before she does.
I'm glad that we chose to produce Legally Blonde this year, and I'm glad that we're promoting it at a high school. Although a majority of the show is just honest humor and fun, it contains a great deeper meaning for anyone going through the stages of growing up. Elle is a perfect example of how, although being independent can be very scary, it can get you very far. She proves that by working hard and focusing on your dreams, anything is possible. And in addition to her independent nature, she is proof that you should never judge anything by its cover. At first glance, Elle is a beautiful, very pink sorority girl. But what she has to offer is far beyond that.