Service Night: Come for an hour, change a life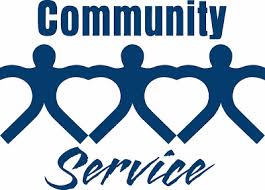 For as long as I've known Mrs. Martin, a teacher here at JCHS, she has always been an inspiration and role model of mine. She has made it her mission to assist the less-fortunate and underprivileged of society through an on-campus program that she founded in November of last year. The name of this program is "Service Night," and you've probably heard about it through the morning announcements or word-of-mouth.
Since the beginning of the program, Mrs. Martin has been dedicated to organizing frequent meetings and spreading the word about Service Night, which takes place on the fourth Tuesday of every month. Students and faculty who attend are committed to involvement in activities that help people and communities, and by giving an hour of their time, a person's life can change tremendously.
"I want students to see that a small amount of time and small costs can make a big difference in somebody's life," Mrs. Martin explains. In the past two years, Service Night has curated a multitude of projects serving various populations. One of the most prominent being when 15 students got together to bake 20 dozen cookies as an appreciation gift for our local first responders.
Other projects included a gratitude project for the school support staff, in which students wrote them appreciative letters. Another project was Operation Glove, where students and faculty made gloves to cover IVs for children at Goryeb Children's Hospital.
Many past projects have been centered around assisting senior citizens, and some of our projects in this range include creating lap organizers and decorating the Senior Thanksgiving Banquet at the Caldwell Community Center.
The members of Service Night are key contributors in the Cell Phone Drive to benefit Jersey Battered Women's Services. The cell phones are given free-of-charge to women who are victims of domestic abuse, so they have a safe phone that is not monitored by their abuser. The Cell Phone Drive will run all through April.
For April's project, the Service Night members will be going to the local food bank to sort food and stock shelves. Mrs. Martin hopes that students will gain insight into the needs of their community and any students interested in attending may see her in Room 505 for a permission slip.
"Keep in mind that Service Night is not a club, but rather an event that anybody can attend," says Mrs. Martin. "There is no ongoing commitment, but I do bring snacks every time!" she says with a giggle.