The Trump Immigration Ban: A Possible Overstepping of Power in the Early Days of a New Presidency
Donald Trump may have only been in office for less than a month, but every day news outlets alert the public to yet another cause of concern. While it may too soon to predict total disaster, hearing about the actions of our 45th president is anything but comforting. Throughout his first few weeks in the White House, Trump signed 12 executive orders, many of which reversed many of former President Obama's regulatory policies. He already surpassed the last Republican president, George W. Bush, in this regard, as he signed 11 executive orders within his first one-hundred days, and is on his way to exceeding Obama as well, who signed 19.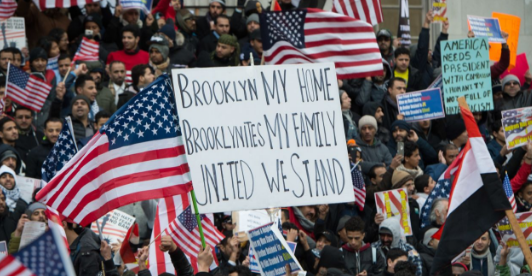 Many of Trump's policies follow through on his campaign promises, most famously his anti-immigration stances, as he stripped federal funding to "sanctuary cities" and requesting congressional funding for the building of his infamous US-Mexico wall. In conjunction with these beliefs, he signed an extremely controversial executive order restricting immigration from the Middle East. This ban restricts immigration to the United States from seven countries with predominantly Muslim populations–Syria, Iran, Iraq, Libya, Sudan, Yemen and Somalia–for 90 days. In addition, refugees were prohibited from entering the US for 120 days. This ban also revokes visas, and has been used to revoke over 100,000, for foreigners both currently residing in and out of the country. This ban would greatly affect those with student visas, people with immigrant visas, and refugees. Trump even confirmed the implicitly stated bias against Muslims, as he himself stated (before the signing of the executive order), "If you were a Muslim you could come in, but if you were a Christian, it was almost impossible and the reason that was so unfair — everybody was persecuted, in all fairness — but they were chopping off the heads of everybody but more so the Christians. And I thought it was very, very unfair. So we are going to help them." His supposed concern for Syrian Christians unfortunately falls flat, as his order then prohibited immigration from Syrian refugees indefinitely.
Even the shorthand name for the executive order, which is officially titled "Protecting the Nation From Foreign Terrorist Entry Into the United States," has been a cause of controversy, as White House officials have contradicted themselves by referring to it as both a "ban" and at other times a mere "travel restriction." On his personal twitter account, @realDonaldJTrump, he tweeted about the order, "Our country needs strong borders and extreme vetting, NOW. Look what is happening all over Europe and, indeed, the world – a horrible mess!"
The aftermath of the ban left scores of people stranded in airports, unable to return home. Almost immediately, there was a public outcry against the ban. In major airports all over the country, protesters gathered to condemn what was essentially a "Muslim ban." One of the greatest arguments against this ban, aside from its inherent prejudice against Muslims and its categorization of them as terrorists, is that it is unconstitutional. Immigration lawyers volunteered their time and showed up at airports in droves to compose cases on the behalf of the trapped. Many federal judges blocked the deportation of people stuck in airports across the country. On February 3rd, a nationwide halt of the ban was ruled by a federal judge in Seattle. Then, on the 9th, the Ninth Circuit Court of Appeals ruled that the ban violated the due process rights of those affected, and gave the states of Washington and Minnesota legal standing to sue. They also raised the question of whether the ban violated the separation of Church and State, as it targeted predominantly Muslim countries especially.
While the ban has effectively been blocked now, it may not be so forever. It is likely that Trump will appeal the decision and bring the case up to the Supreme Court case. This has been one of the first large defeats of the Trump administration, and yet another warning from the public demanding that they won't let the president, who won the electoral college but lost the popular vote, ignore them and their views of what America should be. America has risen out of the fire of 2016, taken inspiration from its many tragedies, and turned that passion into action in 2017. The public is fighting back with a fervor unseen in recent years, with protests for Black Lives Matter, NoDAPL, the Women's March on Washington, and now the airport protests against this ban. No matter how bleak the outlook of the future may be for some, America is still on the path of achieving the founding fathers' vision of liberty and justice for all.