From Droughts to Drench: Oroville Dam in California
"When you build a dam, you are playing God. And it's tough to be God," said former head of reservoir operations for Army Corps of Engineers, Joseph D. Countryman. Although, building a dam is an arduous task, the maintenance is just as important. The management of the dam is essentially the management of water, in which there is a certain degree of risk factors. Whether it be contaminated water, or the structural faults, a national dam is a national concern. Therefore, the emergency spillway in the Oroville Dam February 11th was an alarm, not just for residents in nearby cities to evacuate, but for all Americans to take better care of our dams. Out of the 1,585 dams in California, 17 are listed in poor condition and 97 in fair condition, according to National Inventory of Dams. 17 is too much, 17 dams can affect dozens of cities and lives and possibly cause death and destruction to many areas.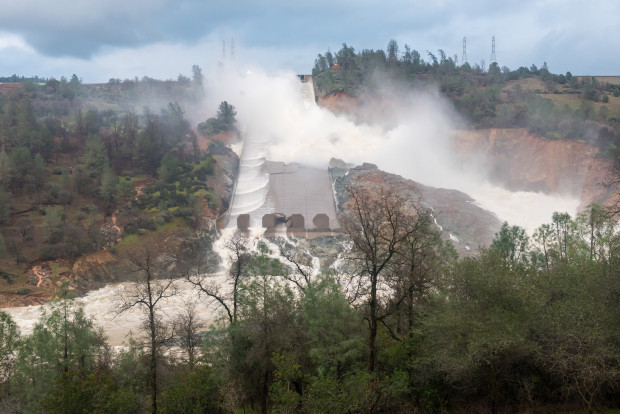 In recent years, the government has spent more money in creating new projects rather than on necessary maintenance. In 2005, environmental groups opposed the relicensing of the Oroville dam by Federal Energy Regulatory Commission, saying that the emergency spillway should be lined with concrete to ensure its durability; the federal agency and state authority said it was unnecessary. Though the lining of concrete would not stop the threat of a 30-foot wall of water crashing down on several towns, it would have kept the spillway from being damaged and threatening the homes of thousands of families in Northern California. Sean Spicer, the White House press secretary, said that the events that are unfolding in California are an example "of why we need to pursue a major infrastructure package in Congress." Though President Trump approved federal funding through the Federal Emergency Management Agency and declared an emergency in the state, the serious aid is needed to maintaining the dams so this mass evacuation of thousands does not have to happen again. At this point, the government has to realize that a dam is more than just a tremendous accomplishment, but is a byzantine project to undertake and maintain, especially when the stakes of an error or mishap are so high.