"Marshmallow Mermaid" pie. "I Hate My Husband" pie. "Betrayed by my Eggs" pie. "Blueberry Bacon" pie.
These are not your average pies. That's because you cannot find them anywhere other than in the hit Broadway musical, Waitress, at Joe's Pie Diner, where protagonist Jenna, played by Tony Award winner Jessie Mueller, creates a new and original pie every day based on her creative ability and pie baking talent. Most of the time her pies relate to her personal experiences, such as "I Hate My Husband" pie, which Jenna came up with after enduring constant abuse and manipulation from her husband, Earl.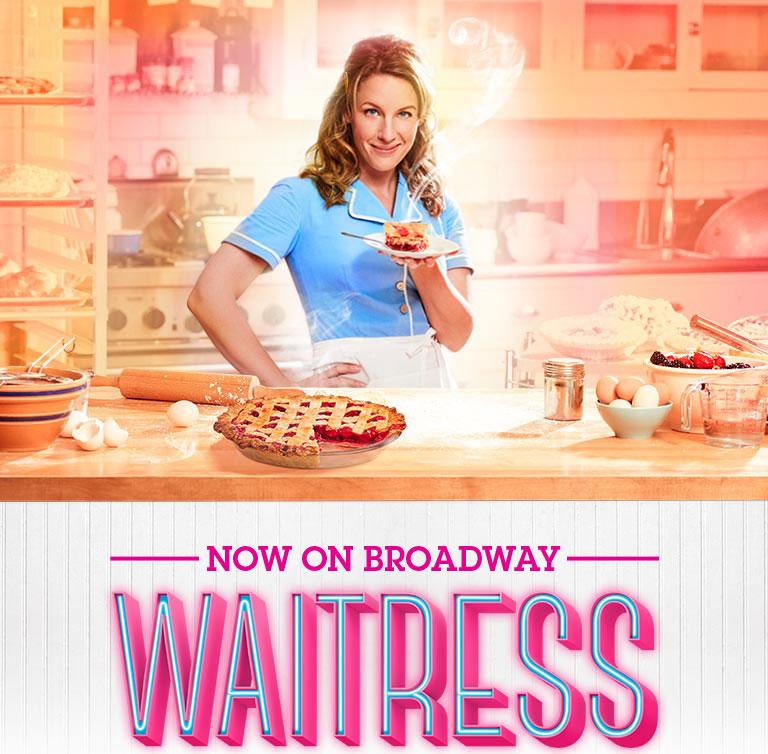 Pie symbolizes not only Jenna's personal experiences, but also serves as an escape from all the craziness of her home and personal life. To give an idea of the importance of pie in the musical, 32 real life pies are baked per week just to be used in the show, which include 27 custom flavors. That's a lot of pie!
Waitress is the brilliant story of your average southern girl, Jenna, just trying to make a living baking pies at a local diner. She and her fellow waitresses, Dawn and Becky, are best friends and are always available to give each other support. They are always there for her even when to Jenna's surprise and horror, she learns she is pregnant with the child of her abusive husband. She struggles to accept the fact that she is becoming a mother unexpectedly but is  determined to give herself and her baby a new life. Jenna hides the tips she earns from waitressing from Earl so she will have enough money to enter a pie baking contest with a prize of $20,000. However, Jenna's new doctor, Dr. Pomatter, throws a wrench in her plan. Although she knows it's a "Bad Idea," she has an affair with him despite the fact that he is married.
Things get even wilder: Becky has an affair with her boss; Dawn accidently finds a guy who loves her and refuses to leave her alone until she falls in love with him; and Earl finds out Jenna has been hiding money, and he forbids her from entering the pie baking contest. It's up to Jenna to find herself and work up the strength and courage to leave Earl or she will be forced to succumb to his manipulation for the rest of her and her future child's life.
Aside from the story itself and the amazing music, my favorite part of the show was definitely the set. The presenium of the stage was made up of an assortment of pies stacked on top of each other and encased in glass. A rotating beam of light constantly moved around these pies, giving the illusion they were rotating in a display case in a real pie shop. This set the mood for the rest of the main set, which resembled an old fashioned pie diner. Blue and white checkered tile flooded the floor, blue stools were arranged at a traditional counter, and classic booths lined the back of the stage. I especially liked the backdrop- it was made of windows that created an illusion of the back of the diner. The windows also gave way to a road that was lying in the middle of nowhere, fit with electrical power cables running along its side. A gorgeous blue sky dotted with occasional white clouds was also visible.
Overall, Waitress, with music and lyrics written by Sara Bareilles, is a must see for all of those with a love for theatre and a keen taste for talent and pie.