Rachel's Challenge

As Rachel Joy Scott once said, "I have this theory that if one person will go out of their way to show compassion, then it will start a chain reaction of the same." Rachel Joy Scott was a normal high schooler at Columbine High School before her life changed forever on April 20, 1999. Rachel was the first victim of the Columbine Massacre and was killed at the age of 17. Although devastated by Rachel's tragic death, Darrell Scott, Rachel's father, turned the horrific tragedy into one of the most inspiring real- life stories of its kind by founding "Rachel's Challenge."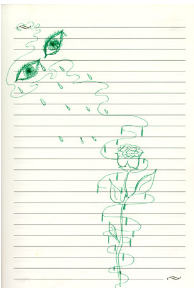 This is a drawing by Rachel on the day of the Columbine Massacre, one class before she was killed. The drawing depicts 13 tears which is the same number of students who were killed on the day of the massacre. The drawing also depicts a rose growing from the tears possibly symbolizing how something beautiful can grow from such a tragic incident.
Rachel's Challenge is a nonprofit national school outreach program for the prevention of teen violence. The program's mission is to create a school free from harassment, bullying, and violence. The program hopes to inspire every person to replace acts of violence, bullying and negativity with acts of respect, kindness and compassion in their school, business and community.

Rachel's Challenge is being presented in schools nationwide. It has recently been presented at the West Essex Middle School. Hopefully this program can be brought to our middle and high schools because it is vital to raise awareness about the detriments of bullying. Just think: If the two perpetrators at Columbine had someone to confide in, 13 lives might not have been taken on that dreadful day. It may seem inconsequential, but a compliment or a helping hand can make all the difference to somebody in need.

So I urge you: pledge to Rachel's Challenge. Be proactive and kind. Say 'hi' and smile at someone you may not normally greet because something as simple as a smile can mean so much to someone. Rachel's challenge takes the courage to break the bonds of comfort zones and offer even the littlest acts of kindness.
Do you pledge to Rachel's Challenge? I do.