The Identity Crisis
All year, six days a week, three hours a day, I was in the gym covered in sweat, tears, and chalk. Not a gym, where people work out on exercise machines, but a gymnastics gym with beams, bars, floors, and vaults. Every evening, I would go through my daily routine of pulling my hair up, putting on a leo and shorts, grabbing a jacket and a water bottle, and then heading to the gym for practice. I would arrive early every day so that I would never be that girl who was late for warm-up, which my coach would never tolerate. The sounds of coaches yelling down the vault runway and gymnasts tumbling on the floor surrounded me as I would walk to my locker and place my belongings inside. When practice began, I would walk with my teammates to the floor, and we would follow one of the older girls as she led the warm-up. Warm-up was always fun since it was the time where we could talk to each other and goof off. Although, there were those days where our coach would sit with us and become agitated at our lack of focus. Following warm-ups, we headed to the first station of the night which changed depending on the day of the week. The night always seemed to fly by as I performed drills to perfect my skills, conditioned my body, and ran through full routines in preparation for the competition season. This was what I had known since I was two-years-old. It was a pattern and a constant in my life. That is, until something unexpected flipped my gymnastics world upside-down.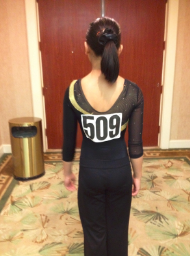 Gymnastics puts a lot of stress on your muscles, bones, and joints, so for gymnasts, aches and pains are a norm. We are used to competing and practicing on twisted ankles or a knee that aches when we run. However, when these aches and pains begin to prohibit a gymnast from continuing to practice their skills, you know that something is actually injured. Of course, many times gymnasts have injuries they never knew about, but the big injuries stop gymnasts from pushing through the pain, like every other day. This is what happened to me when I was thirteen-years-old. Throughout my gymnastics career, I had experienced many foot problems (Achilles Tendonitis, Plantar Fasciitis, Sever's Disease, etc.) as well as other wrist, hand, knee, and hip problems. With all of these injuries, I had alway just taped up the injured body part and continued to do gymnastics. However, a few months before the competition season, my lower back began to ache near the end of practice. I would complain to my mother when I came home, but we both just assumed it was sore muscles. Over the next few months and through the competition season, my lower back became increasingly painful when I moved or even sat. After the completion of my last competition, my mother brought me to my orthopedist. The x-rays showed no injury whatsoever to my back, so I was sent to the hospital for a full body scan. I had a stress fracture in one of my lower lumbar vertebrae. I was given a hard back brace to wear 24/7 for one and a half months and only during the day for another one and a half months. That was a total of three months that I was going to be pulled out of gymnastics.
After the three months of rest, I felt ready to return to the gym, except my parents believed a back injury was the last straw. Without gymnastics, I no longer had the rigorous exercise every night or the friendships created after hours celebrating and crying together. I was at a loss. For years, I identified as a gymnast. If someone introduced themselves to me, I would introduce myself to them, saying, "My name is Julie – I'm a competitive gymnast." I had been part of a team and was relatively good at what I did. I was not the best by far, but it was to what my spare time had been committed. Now, when people introduced themselves or spoke about what they do in their spare time, I no longer could say that I was a gymnast. I was just Julie. It felt like everyone else had a sport or an artistic talent, and I had nothing. It was difficult to come to terms with the fact that I was no longer a gymnast. I still felt like one, and I wanted to be one, yet I was not. Gymnastics had consumed my life, and all of a sudden, it was gone. I did not know how to describe myself to people anymore or who I was without gymnastics. It took a while, until I realized that gymnastics is not what made me who I am, but what I learned from gymnastics that shaped me into who I am.
Gymnastics taught me strength, flexibility, and endurance, not only physically but mentally as well. I was strong in regard to my physical capabilities, but I had gained mental strength. Learning a new skill can be frightening, but gymnastics helped me strengthen my mind and believe in my abilities. Similarly, to be a gymnast you had to be flexible, but that does not mean just being able to do all of your splits. I learned to be open-minded to new ideas that I may not like but would help me in the long run. Lastly, I gained endurance. I could push through a full floor routine with my tumbling passes without reaching exhaustion at the end, but more importantly, I kept trying and trying until I reached my goal. I learned to endure the rough moments, where I felt like I would never be able to get the skill, and move on.
I am not defined by gymnastics. Nobody is defined by the sports, hobbies, or academic classes they take. Instead, the abstract concepts, such as patience or determination, are what define us. My name is Julie, and I am more than just another student, former gymnast, and teenage girl.