A project that seemed to be a lucrative alternative from shipping oil via rail cars and trucks has caused an eruption of protests in the Midwest by Native-Americans and upstanding citizens of the United States.
The General Facts: The Dakota Access Pipeline Project is a 1,172-mile, 30-inch diameter pipeline that will connect the expanding Bakken and Three Forks production areas in
North Dakota to Patoka, Illinois. (NOTE: Bakken and Three Forks produce oil)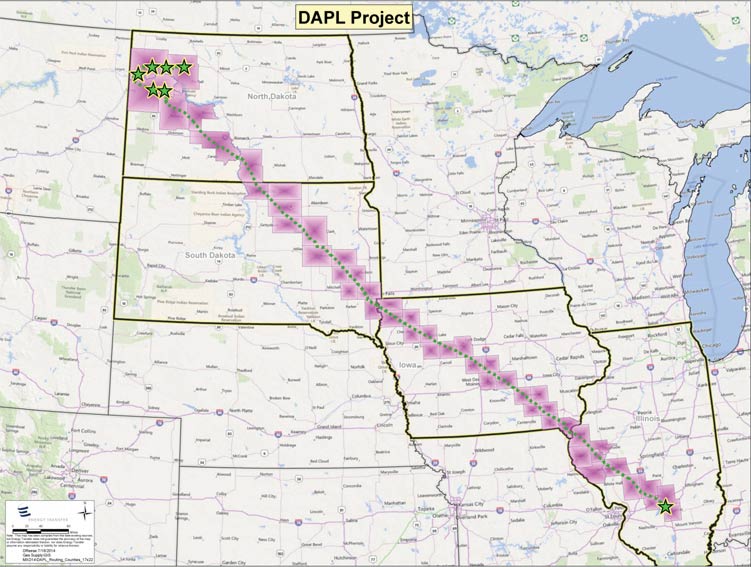 Route of the Dakota Access Pipeline (DAPL): 
The end-goal of the pipeline is to domestically produce light sweet crude oil from North Dakota to reach the major refining markets in a more direct, cost efficient, and environmentally conscious manner.
National Benefit:
An increase in domestic crude oil production can mean greater energy independence for the United States. The U.S. produced 7.5 million barrels of crude oil per day in 2013, yet still imported 7.7 million barrels per day in order to meet consumer demands. And so, the DAPL will help the United States become a self-sustaining country. The DAPL will create a reliable source of transportation to reach U.S. markets, as well as, provide a safe and efficient way of transporting oil.
Local Economic Impact:
The DAPL will also create between 8,000 to 12,000 local jobs during the construction period. From welders to pipefitters. There will be a demand for steel manufacturers in order to make the pipes, values, and so on. Also, the pipeline offers a cost-efficient way of transportation than other options.
The Opposition:
Though the DAPL sounds good in theory, there are many sides to the story. Along the route of the pipeline are the sacred lands of Native Americans and homes of countless families. The most significant problem was possible contamination of Lake Oahe in North Dakota. The pipeline that was supposed to be placed underneath the lake could be hazardous and damage the water supply of the Sioux Tribe. 8,000 protesters gathered at the Standing Rock Sioux Reservation in hopes that the pipeline will be rerouted. This protest started from grassroot activists who built a small group of protesters into a mini-city fighting for justice. In the end, the Army Corp of Engineers announced it will look for an alternate route for DAPL. This victory  has showed us that peaceful, yet strong protests can change lives; because, of those Sioux protesters and their supporters an entire tribe has evaded decades of damaged water supply. Standing Rock is now a protest symbol and reaffirms how significant it is to protect our earth.