A Review of Magic's Newest Sensation: the Illusionists
By Jessica Rizzo
When you think of a magic show, do you think of the stereotypical magician, wearing a tuxedo, pulling a white rabbit out of his black top hat? Or do you think of Harry Houdini, one of the most famous magicians to date, trying to escape from a straitjacket while being suspended upside down? The Illusionists take the idea of magic and deceiving the human eye to a level hig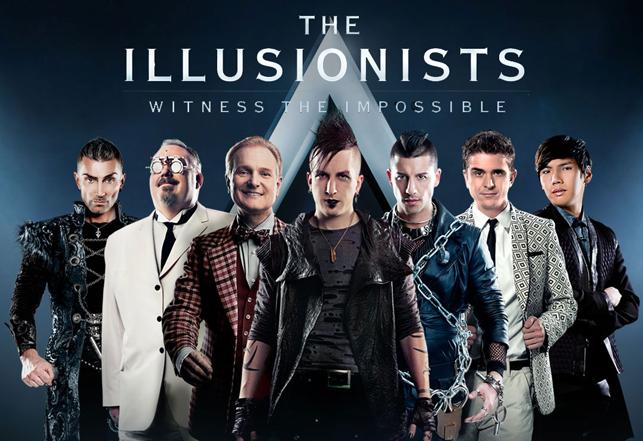 her than I could have ever imagined. Each Illusionist specializes in a certain area of magic, from Andrew Basso, also known as the escapologist, to Ben Blaque, the weapon master, and even to Yu Ho-Jin, former Magician of the Year (2014), the manipulator.
Over spring break, I visited Fort Myers, Florida, and on Saturday, April 9, we decided to see the Illusionists at the Barbara B. Mann Performing Arts Hall. We were very fortunate and my uncle got us all seats within the first few rows. Coming into the show, I expected nonstop magic acts, some small and simple, and others larger and more thrilling. What I witnessed in that theatre was far beyond what I expected a magic show was capable of producing.
For one, the show was very relaxed and involved the audience's participation. The "host" of the show, Jeff Hobson, also known as the trickster, was hilarious and did magic acts that resulted in great laughter from the audience. His movements and sly comments were very funny, and I was very pleased with the comic relief the show contained. Several audience members were picked to go on stage to assist with magic tricks, and it was very amusing to watch everyday people try to help professionals.
Aside from the humorous acts, one stood out a little bit more than the others. This Act I closer trick, performed by Andrew Basso, attempted to duplicate one of Houdini's most famous stunts. Basso told us how he was to be handcuffed, his feet locked up, and be lowered into a tank full of ice cold water that would be locked from the outside. He would have to hold his breath while trying to escape, and all he had to do so was one meager paper clip. If this wasn't already enough to shock the audience, he also revealed that several shows ago a medical team had to step in because he nearly drowned. I was terrified for him as I watched him get lowered into the water tank. The nervousness that erupted on his face had me concerned. However, an intense three minutes and two seconds later, Basso escaped successfully and lived to see another day. This trick blew my mind!
During Act II, I was mortified as Kevin James, the inventor, grabbed my arm and pulled me up onto the stage. My time on stage was quick, but he gestured for me to take the pulse of a body that was cut in half and appeared to be fake. Terrified, I did as he said, and of course the body was indeed alive and grabbed my hand to scare me. That extremely scary experience ended my brief but unforgettable Illusionist debut.
Overall, the precision and expertise of these magicians had me on the edge of my seat throughout the entire show. Yu Ho-Jin's card tricks were fantastic: he gracefully made cards disappear, reappear, change colors, and transform into different things before my very eyes. It is no wonder his nickname is the manipulator. If the Illusionists ever perform in New York City or somewhere nearby, I strongly suggest going to see them. Their professionalism, humor, and poise is well worth the money to see.  After the show, it is clear the Illusionists can do much more than pull a rabbit out of a hat; they can trick, deceive, and manipulate minds, and they can put on a spectacular show that I will never forget!