The Increasing Importance of Political Awareness Among Young Adults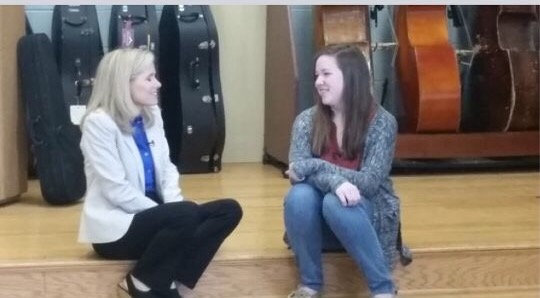 By Emily Freed
Beginning in the seventh grade, my Civics teacher, Mrs. Lincoln, instilled in our class the idea of being an educated citizen. She encouraged us to keep up with current events and form our own opinions about both historical and modern issues. That class made me realize that politics was not merely for adults; it had a large effect on my life, and as a future adult member of society, I should be aware of the political climate of our nation. Ever since then, I have tried to be knowledgeable about the "goings-on" of the country, but I was never particularly passionate or outspoken about it.
However, James Caldwell High School was recently approached by CNN to hold interviews with students about the upcoming election. Fourteen students, ranging from sophomores to seniors, were asked to answer the prompt "I may be too young to vote, but I am not too young to…" and then tweet it with the hashtag #TooYoungToVote. When I was asked to answer this question, I was initially apprehensive to put my opinion out into the world. Although I had written several articles about politics for The Caldron, I was extremely nervous to share my thoughts with a national audience. In the past, I had merely discussed politics among my like-minded friends.
That day, my friends and I discussed our opinions as we tried to complete the prompt to the best of our ability with the 140 character limit of twitter. As I wrote and rewrote my response, I began to contemplate the purpose behind the interviews. I knew that the same interview was conducted among students in Lincoln Elementary School, and that CNN had decided to reenact it among high schoolers. In the elementary school videos, it is likely that the majority of children spoke about the candidates that their parents supported, as they are likely too young to be interested in politics, let alone aware of everything in the news.
In the high school interviews, I knew that the majority of people spoke about their own views, rather than parroting the opinions of others. As we grow older, we form more opinions and gain deeper understanding of the issues around us, but not all of us care about politics. While our school selected 14 passionate, politically aware students for the interviews, I wondered how many people in our school were completely apathetic towards politics. I know I had once hated politics, not caring about global issues or political parties. As I advanced to high school, my interest in my history classes revived an interest in politics, but not all students may be inspired by a teacher to spark that interest.
It is extremely important for students not only to be an educated citizen, but to be passionate about politics. As young adults, we will soon reach the voting age and become active members of our society. We will be making the decisions instead of our parents. It is possible that our generation will have to solve the political turmoil of the current day. Many of the students' tweets reflected this same fear about the uncertainty of our country's future.
Kassie Sarkar, a junior, tweeted, "I may be #tooyoungtovote, but our nation, so fervently indivisible, suffers from a glaring divide which only competency can mend." When I asked her opinion about students role in politics, she told me, "It is less important for children to be forming views and political standpoints on issues than it is to be exposed to all areas of politics and learn as much as possible about the world around them." She believed that the solution to the uncertainty surrounding the 2016 Election is to create more educated, aware students. Political strength and awareness, she argues, needs to be formed during adolescence. Merely agreeing with one's parents encourages conformity, not genuine passion for the country. Kids need to be exposed to a plethora of opinions, so that they understand all sides of an issue, not just the one that someone around them agrees with.
Megan West tweeted, "Although I'm #tooyoungtovote I realize that in order to thrive as a nation, we must rise above discrimination and prejudice." She believes that "young people should be informed and involved in the conversation about politic because, in numbers, we have the power to shape the nation for the better."
Rachael Weismann tweeted, "I'm #tooyoungtovote but I'm not too young to worry about my future as a woman and as a student applying to college." On the topic of young adults within politics, she said, "The upcoming president will have a large influence on our formative years as an adult, so it is important that kids care about who they support and understand their ideals." Other tweets focused on issues of bigotry and prejudice in our nation, poverty, climate change, and national security.
Teens today are intelligent and, with exposure to politics and news, they will be a powerful force when they reach adulthood. The question is not whether it is important for teens to be aware of politics,but how we can encourage it within students around the country. Our generation, despite what some weary adults may believe, is not solely concerned with the material and superficial. We are powerful, passionate, and strong–we have the power to change the world. It is important to start being politically active today so that when the time comes to step up to the challenge, we will be ready to achieve something amazing.
Check out our students' CNN interviews on the CNN website some time during the first week in May! Undoubtedly, the student interviews will contain intelligent discussions about the debates, and they may even open your mind to new political opinions.