By Jessica Rizzo
Seussical the Musical is coming to the JCHS in just a few weeks. On March 31-April 3, the JCHS stage will be transformed into a Dr. Seuss paradise; there will be everything from truffula trees to a clover with every Who in Whoville on it to an elephant sitting with an egg on a nest in a tree. The performances on Thursday, Friday, and Saturday are at 7:30, and the Sunday matinee is at 2:00. The general admission is $10 to witness one of the most family-loving and thrilling shows JCHS has ever produced.
Seussical the Musical combines all of Dr. Seuss' most famous books into one gigantic and extravagant story. The Cat in the Hat, played by Michael Duca, narrates this story and inspires a young girl named Jojo, played by Alex Vacchiano, to embrace her many "thinks." Jojo's imagination creates several unique characters with their own special personalities. Horton, played by Nick Zenobi, is the compassionate elephant caught between saving the Whos and sitting on Mayzie's egg. Gertrude McFuzz, played by Mollie DeFilippo, is the bird with a one feathered tail that goes to great lengths to win over Horton's heart. Mayzie La Bird, played by Erica Blanco, is the carefree party bird whose irresponsibility causes Horton many troubles. Mr. and Mrs. Mayor, played by Eric Urban and Noelle Gizzi, are the mayors of Whoville and will do anything to save their tiny town from war and other dangers. The Sour Kangaroo, played by Emily Alworth, sets out to prove that Horton is delusional when he claims there are Whos on a clover. General Genghis Kahn Schmitz, played by Ben Rovogin, operates the military school that Jojo is sent to. Don't miss the special appearances by Mr. Bertollo as Sam I Am and Ms. Broffman as Max, the Grinch's dog!
I asked Mollie DeFilippo, who plays Gertrude, and Noelle Gizzi, who plays Mrs. Mayor, some questions about their characters and Seussical. Mollie is a junior and Noelle is a senior: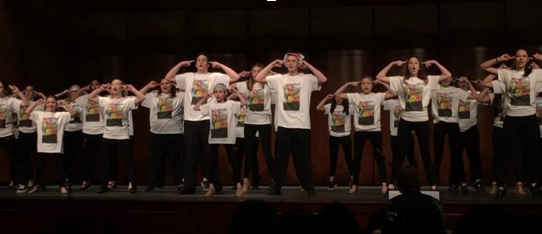 Jess: How would you describe your character, Gertrude, in one word? Why did you choose that word?
Mollie: Gertrude is lovable. She just has that hilarious likable quality to her that is very hard to describe and everything she does just makes you laugh and wonder what she'll do next.
J: What should the audience expect to take away from Seussical?
M: The audience will leave Seussical knowing that it is okay to be different and to just be yourself. Don't focus on your insecurities because you are perfect just the way you are. Just be yourself and that will get you very far, and being a "thinker" is a very good thing!
J: How do you relate to your character?
M: I feel like I actually AM Gertrude McFuzz. I always related to her since I heard the first song she sang. We both have the same ditzy personality. In addition, every song she sings I can relate to with actual moments in my life.
J: How would you describe your character, Mrs. Mayor, in one word? Why did you choose that word?
Noelle: Mrs. Mayor is, in a word, misguided. I describe her as such because she is defined by her motherhood but does not really know how to be a parent.
J: What aspect of the show are you most excited for the audience to see? Why?
N: I am most excited for the audience to see all of the tricks that Thing One and Thing Two do. I personally think their tricks are the coolest part of the show and really add to the whole energy of the production.
J: How does it feel to be in your final production on the JCHS stage?
N: Realizing that this is my final production on the James Caldwell High School stage is bittersweet. I have always been more involved in the plays than musicals here, so when this fall's production of Blithe Spirit ended I was emotional and cried. I am newer to musicals, so this production feels like an opportunity to perform to the best of my ability and have fun for one last time before moving on.
Will Horton save Who? Will Gertrude win Horton's love? Can the Cat in the Hat show Jojo how important her thinks are? You'll have to come see Seussical to find out!