25 Burgers Restaurant Review
By Diana Abraham
25 Burgers is a chain of small and modest burger joints in New Jersey. This restaurant gives their customers a variety of burgers such as the Maui Burger and Teriyaki Chicken Burger. The first 25 Burgers was established in Bound Brook, NJ in the Spring of 2009. From there the company expanded with one goal: to serve fresh made gourmet burgers in a clean and friendly environment. Also, the motto of the restaurant is "25 Choices of You" which means that there is a gourmet burger for everyone.
Furthermore, the menu of 25 Burgers does in fact try to appeal to all customers. For example, one customer can order a classic cheese burger with the essentials: lettuce, tomato, and american cheese on a deli bun and another customer can order a maui burger which includes grilled pineapple, smoked ham, teriyaki glaze, sweet mayo, along with the essentials. Therefore, anyone with any taste can go to 25 burgers. There is always a burger for someone. Also, if a customer does not like a certain cheese or ham then the chef can accommodate accordingly. Picky customers are not denied nor scoffed at for their anomaly.
The appearance of the restaurant is somewhat shady and may shy away potential customers. However, the inside is quite welcoming. The 25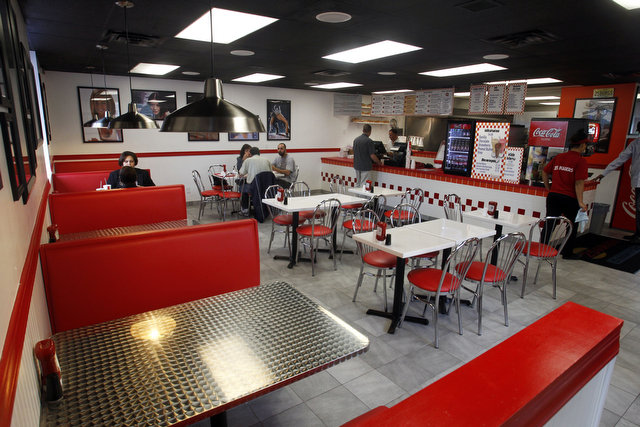 Burgers in Fairfield, NJ attempted to pull off a 50's diner theme with posters of James Dean, Marilyn Monroe, as well as Elvis. Yet, the posters of modern day actors and actresses takes away the 50's effect. The appeal of 25 Burgers can be seriously rebooted and, thus, lead way to more customers.
Nonetheless, the food is tasty and delicious. The first time I went to the restaurant I got the El Paso Burger which included: roasted poblano peppers, sauteed onions, bacon, provolone cheese, guacamole, lettuce, tomato, and chipotle mayo on a toasted Miami onion bun. I asked the cashier if the chef can omit the mayo and onions and he responded with an upbeat "Okay, no problem!" Also, to accompany my burger I got a Diet Coke and french fries. Although the portions of the fries are small the burger accommodated quite nicely. The meal was complete and satisfying, it was confirmed that I loved 25 Burgers. The last time I went I got the famous Maui Burger with a chocolate shake. The Maui Burger was flavorful and spicy, which I liked, and the chocolate shake was a sweet compliment. Therefore, I recommend 25 Burgers. 25 Burgers may not be all that appealing from the outside, but the experience inside is definitely worth a visit.