Holiday Song Ranking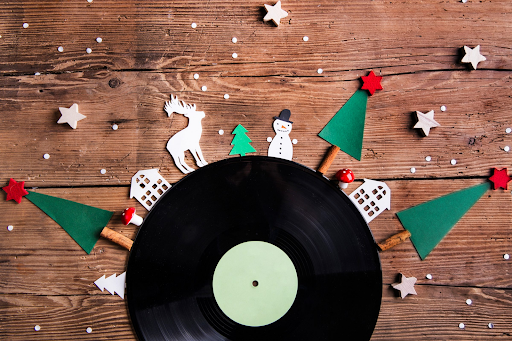 It is evident that the holidays are approaching when you walk into any store or turn on the radio, and holiday music is being played repeatedly. Holiday music has become a stable tradition since the 1960s, with the emergence of songs such as "Santa Claus Is Comin' to Town" and "Rudolph, the Red-Nosed Reindeer." Originally holiday songs were targeted toward children, but today, holiday songs are enjoyed by all. After listening to numerous popular holiday songs, I was able to curate a list of my top holiday songs.
10.  "It's the Most Wonderful Time of the Year" – Andy Williams 
Coming in last place is the 60s classic tune. Many famous artists have covered this hit single over the years, and it has remained in Billboard Top 100. The verses are memorable with their energetic flow. However, it doesn't rank highly on my list, similar to its ranking of Number 9 on the Top Billboard 100.
9.  "Let it Snow! Let it Snow! Let it Snow!" – Dean Martin 
This tune is described as "a winter romance," and that is undoubtedly the effect it has on listeners. This song doesn't mention Christmas and focuses on winter joy, but it is still considered a Christmas classic. This song is also featured on The Andy Williams Christmas Album, a compilation of many popular holiday songs from the 1960s.
8. "Jingle Bell Rock" – Bobby Helms
In eighth place is the 50s classic composed by long-time New Jersey resident Bobby Helms. This song references one of the most popular winter Christmas traditions, such as sleighing and dancing. "Jingle Bell Rock" has also been used in many memorable movie scenes, including the Christmas dance in "Mean Girls."
7. "Underneath the Tree" – Kelly Clarkson 
This upbeat pop single from Clarkson's Christmas album Wrapped in Red has received over 300 million streams on Spotify since 2013. Even though this is a newer Christmas song, it is still a classic. The song has been compared to Mariah Carey's "All I Want for Christmas is You."  The similarity between the two pieces is noticeable; however, Clarkson's song scores lower on my ranking.
6. "Santa Tell Me" – Ariana Grande
Even though Ariana Grande isn't known for just her holiday music, this single has become a worldwide loved Christmas song. This song uses elements of Pop and R&B to encapsulate the Christmas feeling. This piece is considered a modern Christmas classic and is currently placed 39th on the Billboard Top 100.
5. "Feliz Navidad" – José Feliciano
Feliz Navidad translates to "Merry Christmas" in English. The Puerto Rican singer incorporates both Spanish and English throughout the song. This song is a hit not only in Spanish-speaking countries but worldwide. Its popularity is evident as it has remained in the Top 100 since the 70s.
4. "Rockin' Around the Christmas Tree" – Brenda Lee
This song has been recorded since 1958, when Brenda was only thirteen. This song has sold over 25 million copies, making it an iconic Christmas song. The song has also been famously covered by Carrie Underwood, known for "Underneath the Tree."
3. "Happy Xmas (War is Over)" – John Lennon, Yoko Ono
Counting down the last three spots is "Happy Xmas (War is Over)." Lennon, known for his involvement in the Beatles, and Ono were composed to represent peace activism post the Vietnam War. The song promotes optimism and social unity, which differs from all Christmas songs. This song became an instant success in Britain, but it took some time before it got the same positive feedback in the United States.
2. "All I Want for Christmas Is You" – Mariah Carey 
To say this song is just a classic holiday song is an understatement. Carey's music has held the top 10 spots of the Billboard 100 since its release in 1994 and currently holds the top spot.  This song's impact on modern Christmas music is unbeatable and has inspired many holiday songs. It was a tough decision to rank this song second on my ranking; however, it is still an iconic favorite.
1. "Last Christmas" – Wham
The song taking my number one spot, and my current favorite holiday song is none other than "Last Christmas." The verses are unforgettable and create a nostalgic feeling of opening presents on Christmas morning. The song is iconic and is currently ranked number two on the Billboard Top 100.