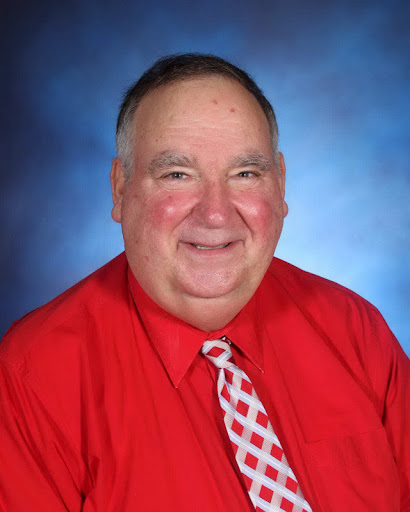 WEST CALDWELL- 1969 was a year full of notable events. The first moon landing, the Woodstock Festival, and the Beatles' last public performance all encapsulate the importance of the final year of the 60s. 1969 was also the first year that Jeff Edwards called James Caldwell High School home. In the five decades since, Edwards has become the most iconic and beloved teacher that the school boasts, as well as being a fixture in the Caldwell/West Caldwell community. From teaching countless math courses to generations of Caldwellians to coaching every sport under the sun, Edwards has touched the lives of many and will surely be missed.
From the moment he stepped foot onto campus in September of his freshman year, Edwards knew that he fit well. "JCHS was always a second home, a very comfortable place to be," said Edwards. While education wasn't always his first priority, Edwards made the most of his time as a JCHS student, including lettering in baseball and basketball. Upon graduation in 1973, athletics was the field that Edwards wanted to pursue a career in. He enrolled at Montclair State University that fall, majoring in Physical Education and Health, with the eventual goal of becoming a P.E. teacher and coach at JCHS. By 1977, Edwards had graduated from MSU with his intended degree, but not his exact goals achieved. Despite wanting to return to his roots right away, Edwards had to take a quick pit stop before beginning his teaching and coaching career at JCHS. For one year, he taught P.E. and Drivers Ed at Manchester Regional High School, where Edwards not only got his first taste of teaching, but a change of heart for his future in the classroom. 
In 1980, Edwards was offered a teaching position at JCHS, but for math instead of P.E. At the time, P.E. positions were not nearly as needed as math teachers, and Edwards decided the subject change was worth it for the opportunity to come back to JCHS. Now finishing out his 42nd year teaching all types of math at JCHS, it's safe to say the switch was well worth the risk. Besides the fact that a classroom environment was a much more viable place for Edwards's teaching style to thrive, coaching positions were readily available to him. Starting out as a freshman football and soccer coach, Edwards worked his way up to coaching basketball for 40 years and baseball for 27, the latter of which he was the varsity head coach for 16. 
Both on the field and in the classroom, Edwards had a positive influence on the lives of thousands of high schoolers. Former JCHS student and current vice-principal Trevor McLaughlin had Edwards as both a teacher and coach: "We'll certainly miss having Mr. Edwards as a part of our family at JCHS.  What we all love about Mr. Eds now was also the case when I was a student here at the high school. I remember Mr. Edwards as encouraging, funny, and a great leader.  I think those same characteristics apply today.  But, now I can also attest that Mr. Edwards is a dedicated colleague, devoted family man, and just an all-around tremendous person."
Current Senior Ty Vastola had similar admiration for Edwards stating, "I really like how he is always trying to teach us about our futures. He gives us tips and pointers that we will all surely remember next year and beyond." A presence that stretches past the classroom has always been a point of emphasis for Edwards, and he often praises it as one of the main reasons for why he has had such a successful career.
"Getting to know your kids outside of class makes for a much better experience as a teacher, and you get more out of your students. Get to know your kids and the subject matter will follow," Edwards said.
This unique approach to teaching has not only paid dividends for all of his students over the last four decades, but to Edwards himself. Being around students has been fulfilling and then some for Edwards, who attributes their comradery for his long career in the classroom. "Being able to laugh with almost every class and have the kids laugh has been enjoyable. Kids keep you young" he said. 
Through the years, Edwards has witnessed former students return to Caldwell and raise children of their own, many of which he has had in the classroom as well. Katie Kiernan, a 1988 graduate of JCHS, had Edwards as a teacher and has since returned to Caldwell to raise a family of her own, which includes former JCHS student Elizabeth and current junior Claire. "I remember both learning and laughing in his classroom or in the hallway as he noticed and greeted you by name," stated Kiernan. "He was always a favorite teacher and all-around person of mine, and has set an example of dedication to JCHS that few can match." Seeing the new generation of Caldwellians pass through JCHS has given Edwards unique access to many of his former students such as Kiernan, making it easy for him to learn about the success they had post-JCHS thanks to his always approachable nature.
Current JCHS P.E. teacher, lacrosse coach , and 2011 graduate Nicole Rubino had Edwards during her time as a student and continues to have a great relationship with him today. "He always took the time to get to know you outside of school and made sure to follow up with your extracurricular activities. Although I never played for him, he always gave me sound coaching advice when I was a student-athlete and now as a coach at JCHS." To say that these conversations and connections with former students make his day would be an understatement.
"I love to hear the success stories," he said. "It's a great feeling when a student or kid I coached comes back and tells me how successful they were because of what I taught them or what I said."
Though he is departing from the classroom come June, Edwards will still be the same friendly face that can be seen anywhere in town, from Foodtown to football and baseball games. JCHS will surely not be the same without him, but his impact on the school is everlasting. His famous catchphrases and cautionary tales will live in the hearts of former students much longer than SOHCAHTOA and T-Scores, and his model for teaching is one that everyone should take after. On behalf of the entire JCHS community, past and present, thank you Mr. Edwards for having a positive influence on my high school career and beyond.