The JCHS/West Essex Hockey Team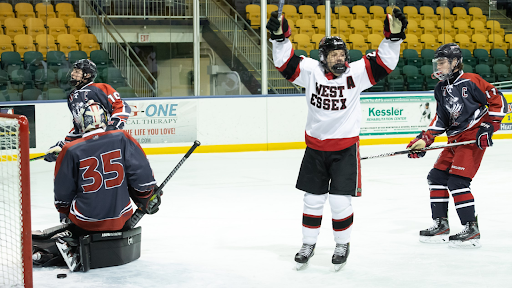 After many tough losses for the West Essex-Caldwell hockey team, they began to get their heads in the game. In the team's most recent game against Mendham, the West Essex-Caldwell Hockey team showed the crowd what they can do. With a 7-3 win making their record 6-9, Rocco Garcia, #22, opened the scoring to lead the game 1-0 in the first period. At the start of the second period, goals were seen from Luca Infusino, Joseph Namyotov twice, and then Justin Bergman. All were assisted by either Garcia, White, Infusino, and Caldwell's own Clayton Prial. At the start of the third period, assisted by Gil Prial and Luca Infusino, Joseph Namyotov scored yet another goal, bringing the Knights to 6-3. Lastly, to finish out the game, Gil Prial scored his second goal of the season, unassisted on a powerplay. 
Captain Gil Prial had this to say about the team's win, "It felt good to get a couple wins after our long losing streak. I feel like the team chemistry is the highest it has been all season as we look to get back into a push for the state's run. We hope to end our season with a winning record." With Prial's optimism, the West Essex-Caldwell Hockey team definitely has it in them to push through and continue their two-game winning streak after coming from a straight 5-0 loss. 
Looking back at the team's season as a whole, there were some legitimate highlights. They started off their season strong with a win against Montclair 5-1 on the 29th of November. Bringing this win full circle, the Knights beat Montclair a second time 5-4, almost a month later. Other notable games for the hockey team were their Verona shut out, beating them in a mercy of 11-1. Goals were  scored by Rocco Garcia (3), Tommy O'Hern (1), Alex Kierepka (1), Liam Hanley (1), Joseph Namyotov (2), Michael Coyle (1), Zac Otun (1), and Justin Bergman (1). The team then goes on to win against Paramus, with a score of 6-0. Three days later, they crushed Madison in their Holiday tournament, 8-0. 
As for the rest of their season, the Knights are looking at roughly four more scheduled games before states. On Wednesday January 26th, the Kights will play against Westfield, at Westfield. January 28th at Glenrock. January 30th vs. Nutley, also their senior night. And bringing them to the end of their season, they will play Ridgewood on February 6th. As one of the two stat girls for the team, I believe that this team has it in them to work through their losses, and finish their 2021-2022 season strong. The seniors definitely deserve it.